Weekly Communications 2.25.22
Posted February 26, 2022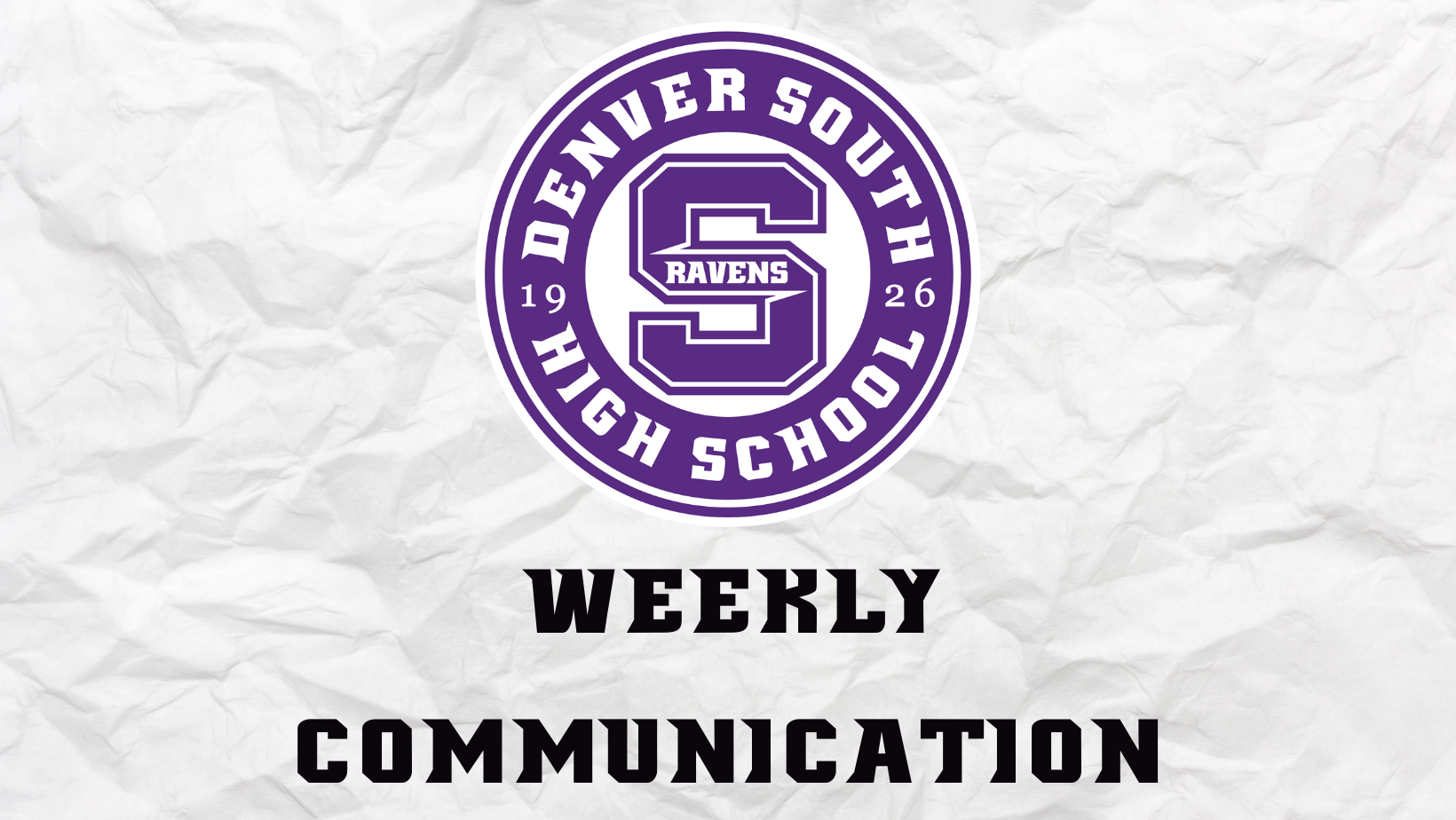 Update from Principal Thomas
Dear Denver South Students and Families,
For our final celebration for Black History Month, we'd like to introduce you to Charles Burrell. Mr. Burrell is a classical and jazz musician who first joined the Denver Symphony in 1949 and played bass with the group for decades before his retirement in 1999. Sometimes called the "Jackie Robinson of classical music," he was not actually the first Black classical musician in Denver (a distinction that goes to Jack Bradley). His life demonstrates the many obstacles to Black participation in classical music—many of which still exist today—yet his talent and determination led him to a long, successful career, including a stint with the San Francisco Symphony in the early 1960s. Also a sterling jazz bassist, Burrell performed at the Rossonian Lounge in Five Points and played gigs with local notables such as George Morrison as well as national names such as Ella Fitzgerald, Earl Hines, Billie Holiday, and Fats Waller. Mr. Burrell, your accomplishments are an inspiration.
---
As DPS continues to work closely with our trusted health partners and navigate the changing health landscape, we wanted to share some important updates to our COVID guidelines. As of Feb. 28, DPS is moving to a routine disease control model for COVID-19. These guidelines more closely align our COVID-19 efforts with the public health response strategies used for other infectious diseases in schools, such as the flu.
What will this look like at Denver South?
We understand that there may be mixed emotions about these changes. Some families are excited to return to a more typical school environment while others are concerned for health and safety. Please know that we will support our Denver South students, regardless of their choice to mask or unmask. While we strongly encourage students to remain masked, it is no longer required and up to each individual. Thank you for your support as we navigate this next few months. Please see below for specific details:
Masks
Masks are strongly encouraged in DPS facilities but no longer required for any individual regardless of vaccination status, with the exception of those actively using or operating DPS transportation.
DPS' masking policy is universal across the school district.
Individuals returning to a DPS facility after being COVID positive should follow CDC and CDPHE guidelines to properly wear a mask for the 6-10 days after an infection.
Individuals may remove their mask when actively eating but should maximize distance as possible.
There are spaces within DPS facilities, including Denver Health School-Based Health Centers, that will require mask wearing because of industry protocols that are in place.
If an individual in a DPS facility becomes sick with COVID-like symptoms, a school nurse or manager may ask the individual to wear a mask until the individual exits the DPS facility.
Transportation
In alignment with federal law, masks are required while aboard public transportation, which includes school buses and other district-provided transportation to and from school or events. Transportation retains a supply of disposable masks so that no student will be turned away.
Events
Athletic events, student performances, competitions, etc., are not subject to additional capacity restrictions beyond what is permitted by the size of the venue.
Visitors, volunteers, and families are permitted at schools with a scheduled appointment. All visitors must check in at the Main Office.
All athletic and performance art activities can proceed as normal without additional restrictions.
Performing arts and physical education can resume normal operations.
School events, including school dances and graduation, may resume normal operations.
Have a great weekend! If you have any questions, you may submit them here and a staff member will be in touch.
Go Ravens!
We are Denver South
Sincerely,
Principal Thomas
---
Upcoming Dates for 2021-2022 School Year:
March 3: Spring Choir Broadway Scenes Night
March 17-20: The Lightning Thief-Spring Musical
New This Week
---
School Fees
As we get closer to the end of the year, we would like to remind you that all fees need to be paid as soon as possible. Please make sure you log in to your My School Bucks account to review and pay your fees. Remember that these need to be taken care of before your student graduates.
To login to your account please visit the following link My School Bucks or you can log in to your parent portal account and access it through there.
If you do not have an account on My School Bucks, please follow the link below to create one.
---
Denver Health Update
As always, Denver Health Pediatric Clinic at South High School is happy to help any student who needs a physical.
We are offering free Physical Exams and Sports Clearance in advance of the Spring Sports Season which begins February 28, 2022. Please call our Denver Health Pediatric Clinic at 720-423-6260. We still have appointments available. If your parents/guardians have not completed a consent form, please have them fill one out online https://www.denverhealth.org/services/school-based-health-centers/e-consent.
We also want to help athletes to remain healthy during the sports season by ensuring as much protection as possible from COVID-19. Denver Health Pediatrics has COVID-19 Booster shots available. To schedule an appointment, call Denver Health South at 720-423-6260 or contact the main school-based number at 303-602-8958. Vaccinations can also be scheduled online at https://covid19.colorado.gov/kids-vaccines. We are happy to answer any vaccine questions.
---
Tree-plenish Project
The Sustainability Club at South is participating in a tree-plenish event April 23, 2022 and sign up ends March 23. The club is trying to plant enough trees to cover South's annual paper usage, and we have 3 species of trees (saplings) for people in the community to buy ($5).
Click here for more information!
---
Honors Choir
Our Honors Choir will be presenting their annual Broadway Scenes Night on Thursday, March 3rd at 7pm in the Auditorium. The concert is free so come support our singers and see performances from The Little Mermaid, Hadestown, Dear Evan Hanson, and more!!
---
Athletics and Activities
The rock climbing team took 2nd for boys and girls at Regionals and had 8 qualify for Varsity State (5 for JV). They will travel to State this Saturday, February 26 at G1 Climbing in Broomfield.
Girls and Boys Basketball
Our girls and boys basketball teams have advanced to the second round of playoffs! Tonight the Girls are at Chaparral 7pm – show up at the door to buy tickets!
Saturday afternoon Boys are at East 1pm – there are 500 Ravens tickets -you will need to use the link to purchase tickets. This event will sell out online so be sure to buy those tickets!
Click here to purchase your ticket!
Hockey
We also have a few Ravens that are on the hockey team at East. They are ranked #1 for 5A and play in the Quarterfinals Monday at 5:30pm at Magness at DU. Be sure to go out and support! The link to buy tickets is below.
Purchase Your 5A Quarterfinal Tickets
Good luck to all of our Raven Athletes!
---
Parent Updates
Next PTSA meeting
Our next meeting on Zoom on March 3 at 6:30 pm, access the agenda here. Everyone is welcome, even if you're not a PTSA member! We will be discussing upcoming events like After Prom and voting on next year's PTSA Board. If you might be interested in being nominated or joining a committee, please respond HERE. We will be meeting on Zoom, here is the meeting link, all welcome.
Ryan Harris Event
PTSA is hosting Super Bowl Champion Ryan Harris on March 17 at 2:45p at Denver South High School. This event will be right after school, in person, and live-streamed! More information to follow.
Save the Date- two upcoming parent/caregiver webinars:
March 23, 6:30p – Teens and Stress Management hosted by the CU Depression Center
Join us and experts at the CU Depression Center to discuss stress management. This will be an interactive talk focused on recognizing the function and method of stress and how to understand the essential ways to reduce stress. During this training, participants will learn practical tips and tools to manage stress and changeun healthy habits. Register here.
April 13, 6:30p – QPR Suicide Prevention Training hosted by the CU Depression Center
Join the CU Depression Center to discuss QPR, which stands for Question, Persuade, and Refer — the 3 simple steps anyone can learn to help save a life from suicide. People trained in QPR learn how to recognize the warning signs of a suicide crisis and how to question, persuade, and refer someone to help. This evidence based training goes over national and state statistics about suicide, warning signs, and detailed explanation of how to talk to someone who may be in a suicide crisis. Register here.
Parent Communication
Please sign up here if you would like to receive important updates from PTSA, you do not need to be a member! We send out important updates about supporting students, teachers and parents at Denver South High School!
Recurring News 
---
Giving Grocery
If you and your family need extra groceries for the week, The Giving Grocery provides free groceries to South Families. For More information click here!
THANK YOU FOR YOUR SUPPORT OF THE SOUTH HIGH SCHOOL GIVING GROCERY!