Weekly Communication 2.18.22
Posted February 22, 2022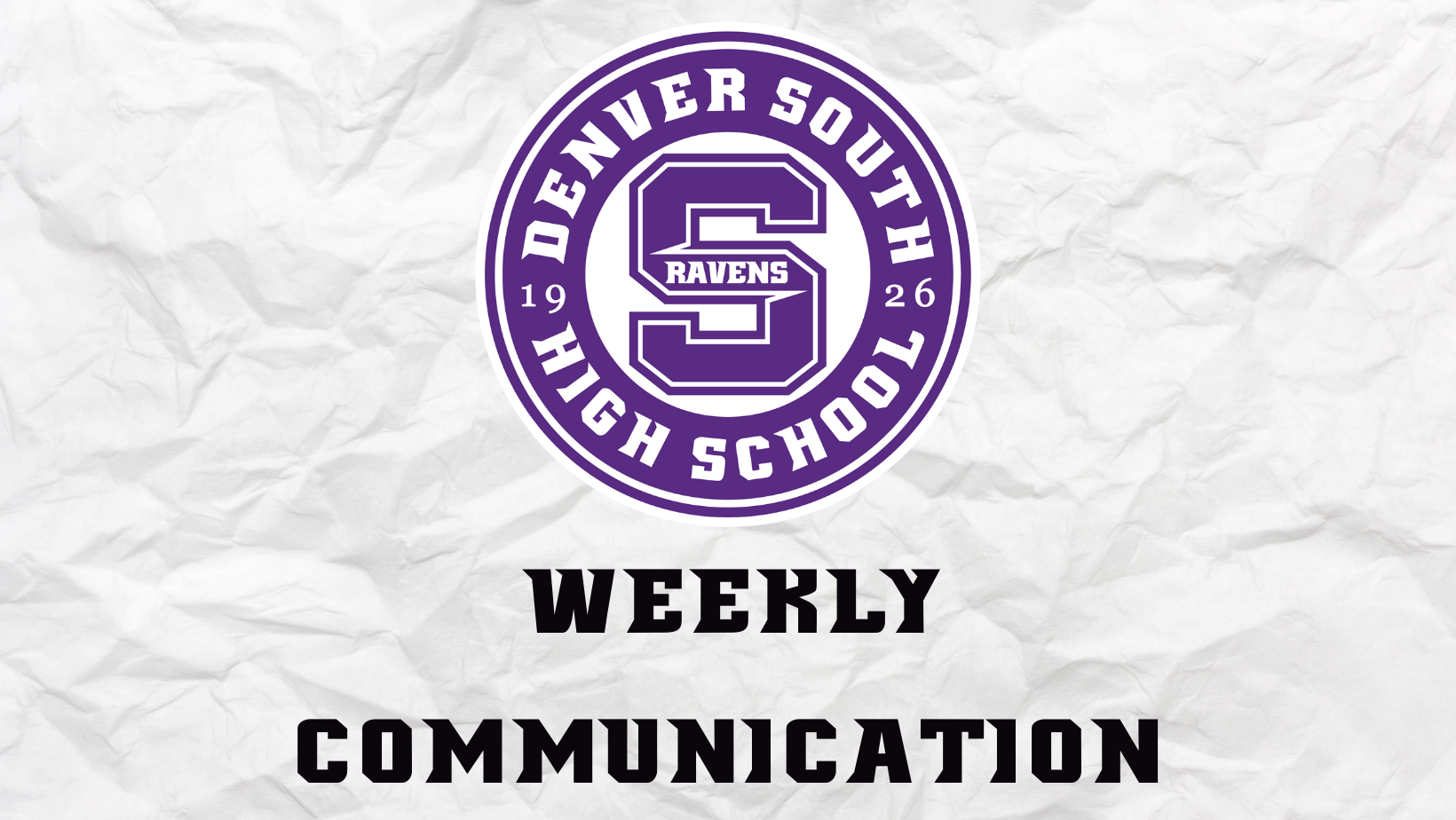 Update from Principal Thomas
Dear Denver South Students and Families,
This week, we want to recognize another notable Black leader who had a tremendous impact on our city and state. George Leslie Brown, former lieutenant governor of Colorado was the first African American to hold statewide office. Brown became the nation's first African American lieutenant governor since Reconstruction.
Brown was born on July 1, 1926, in Lawrence, Kansas. He served in pilot training with the Tuskegee Airmen toward the end of World War II. Brown studied journalism at the University of Kansas and did graduate work at the Harvard Business School, the University of Colorado and the University of Denver. Brown moved to Denver where he worked as a reporter and editor for The Denver Post before entering politics. In 1955, Brown made history when he was elected to the Colorado House of Representatives. He was later elected to the state Senate, where he served 18 years, and was reelected to five consecutive four-year terms. In 1979, Brown left Colorado and joined the Grumman Corporation where he was later promoted to senior vice president in charge of the firm's regional offices, becoming the first African American corporate officer in a major U.S. aerospace company. Thank you for your contributions, Mr. Brown.
A few reminders for next week:
There is NO SCHOOL for students on Monday, Feb 21 or Tuesday, Feb 22.
The city's public health order requiring masks in schools will expire at the end of the day on Friday, Feb. 25. The decision by DDPHE means that, beginning Monday, Feb. 28, masks will no longer be required but will be strongly recommended for all students, staff, and visitors across DPS.
Have a restful long weekend! If you have any questions, you may submit them here and a staff member will be in touch.
Go Ravens!
Sincerely,
Principal Thomas
---
Upcoming Dates for 2021-2022 School Year:
February 21 and 22: No School
February 23: Webinar with Dr. Sheryl Ziegler, Parenting Expert
March 3: Spring Choir Broadway Scenes Night
March 17-20: The Lightning Thief-Spring Musical
New This Week
---
Feb. 23 MLE DAC Virtual Meeting
Families of Multilingual students are invited to join DPS for a Multilingual Education (MLE) Districtwide Advisory Committee (DAC) meeting at 5 p.m. on Wednesday, Feb. 23.
At this meeting, families will learn more about:
Healthy Start Times Phase 2
Declining Enrollment update
Social-Emotional support opportunities
Families can register here and join the meeting via Zoom. For more information, visit the MLE DAC website or call 720-423-2040
---
Latest DPS Health Update Video
Last week, the Denver Department of Public Health and Environment (DDPHE) announced that its order requiring masks in all schools and childcare facilities will expire at the end of the day on Friday, Feb. 25. We continue to collaborate closely with and follow the guidance of the experts at DDPHE and Denver Health who have been our partners throughout the pandemic. They have assured us that, with the current decline in severe cases and the high rates of immunity that we're seeing, it is safe to lift the school mask mandate at this time.
Here is a video from Dr. Steven Federico, Director of Pediatrics for Denver Health (available below in English and Spanish.) The video provides more information about our approach to health and safety in this next phase of our COVID response
---
Scholarships
Artificial Intelligence (AI) Camp (www.ai-camp.org) is offering scholarships for their 3-Week Summer Camp. AI Camp is founded by Stanford Ph.Ds, and has taught thousands of students about AI. No coding experience is needed. About 70% of our applicants are awarded with a scholarship. To apply, click here: https://www.ai-camp.org/summer-camp-scholarship. This opportunity is first-come, first serve. The deadline is 3/15.
---
Athletics – Winter Sports Update
Boys Basketball is currently 14-7 on the season and poised to host a first round 5A playoff game next Wednesday! They finish up the regular season this Saturday, and will take on North High School at home. Way to go boys basketball!
Girls Basketball is currently 15-7 on the season. They are also looking forward to hosting a first round 5A playoff game next Tuesday! They finish up the regular season this Saturday, and will take on North High School at North. We hope to see you there!
The Girls Swim and Dive team has made a splash in league and in state this season. We had multiple league champions and 5 state qualifiers! Go Ravens!
The Wrestling team has brought incredible features and a young talented team that has shown amazing improvements. Between our girls and boys programs we had 6 league champions! Two of our wrestlers also qualified for state! Keep up the good work!
We have 7 of our Denver South Ravens who are members of our DPS hockey team at East high school. This year the team is having unprecedented success and is currently ranked 1st in the state and 2nd nationally!
Way to go Ravens! We are proud of you!
Recurring News
---
Vision and Hearing Testing
There will be vision and hearing testing for all students starting 2/23. Families will have the choice to opt out. Please click here to access opt-out forms in multiple languages.
---
PTSA
We have postponed our event with Super Bowl Champion Ryan Harris until March 17 at 2:45. This event will be right after school, in person, and live-streamed! More information to follow.
Parent and Caregiver Education
February 23 at 6:30 pm
Webinar with Dr. Sheryl Ziegler, Parenting Expert
Dr. Ziegler has appeared as a mental health expert in 100+ news related shows including The Today Show with Megyn Kelly, The Katie Couric Show, The Jenny McCarthy Show, The Doctors, CNN, CNBC, Headline News Weekend Express with Lynn Smith, Morning Express with Robin Meade, and more. Articles she has contributed to have been featured in The New York Times, The Washington Post, Harvard Business Review, TIME, Better Homes and Gardens, Parents, Real Simple, Huffington Post and more. Her book has been translated into several different languages. She is an international speaker in countries including Kenya, Nigeria, Tanzania, Germany and Australia. For more about Dr. Ziegler, her podcast, book and more check out her website.
Staff Appreciation
Thank you to everyone who helped out with our staff appreciation coffee cart last Friday! We love our Denver South teachers and staff!
Next PTSA meeting
Our next meeting will be in person on March 3 at 6:30 pm. Everyone is welcome, even if you're not a PTSA member! We will be discussing upcoming events like After Prom and voting on next year's PTSA Board. If you might be interested in being nominated or joining a committee, please respond HERE. Stay tuned for more details on the meeting location.
---
Giving Grocery
If you and your family need extra groceries for the week, The Giving Grocery provides free groceries to South Families. For More information click here!
THANK YOU FOR YOUR SUPPORT OF THE SOUTH HIGH SCHOOL GIVING GROCERY!