Weekly Communication 2.4.22
Posted February 4, 2022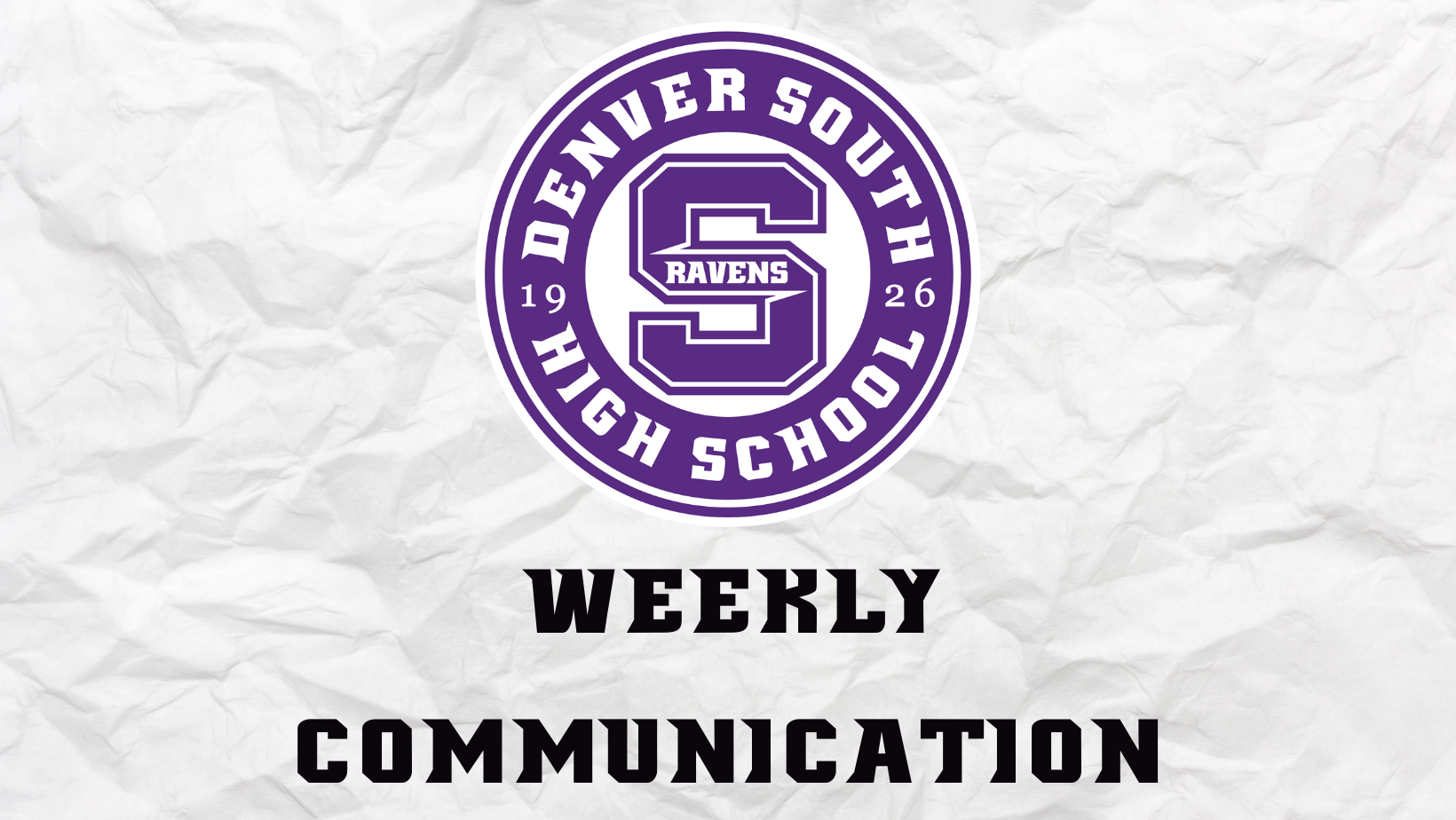 2.4
Update from Principal Thomas
Dear Denver South Students and Families,
I cannot believe we are in the month of February! I am incredibly excited that this week starts the 1st week of Black History Month. During this month, we plan to celebrate those individuals that paved the foundation for us to continue to build on. I want to encourage our young scholars that their voices and words have power and when positively put to use can bring significant change. The teachers and staff have planned many engaging activities for our students to learn about a mixture of historical and current African American figures making a positive impact on society. This week, we'd like to highlight Rachel B. Noel, an education pioneer who helped integrate the Denver Public School system and provide equal opportunities to all Denver students. When she was elected to the Denver Public Schools Board of Education in 1965, she was the first African American woman elected to public office in Colorado. On a personal note, I am honored to have served as Principal at Rachel B. Noel Middle School in its last years. Click here to learn more about Rachel B. Noel and her legacy.
Last week, we shared with our community our plan for addressing systemic inequities in course scheduling and Honors classes. Overwhelmingly, we've received positive feedback from families and students. However, we have also had several questions and concerns from families about the impact this change will have on their students. In an effort to provide additional transparency and clarity, we'd like to address some of those questions:
Is Denver South High School removing Honors classes?
No, we are not removing any Honors classes. This change was made to increase access to our highest-level courses, not remove it.
What options does my student have for weighted credit?
All core classes will have an opportunity to earn weighted credit, and all non-core Honors classes will remain the same. Teachers will communicate with students the specific criteria needed to earn Honors credit in their course.
Additionally, we will continue to offer advanced coursework through 20 different AP offerings, as well 26 different concurrent enrollment (CE) college courses. For the 2022-23 school year, we will have 7 new CE classes for students to try. There are opportunities for AP or college credit at every grade level.
How will this new policy impact transcripts and college admissions?
There should be zero impact on transcripts, class ranking, or college admissions. If your student has met the Honors criteria, their transcript will indicate that. We are re-coding student schedules before grades/courses roll to transcripts, so that the correctly named and weighted honors courses are shown. For example, if a student meets the Honors criteria in their English 1 class, that will show as Honors English 1 on their transcript. For Seniors, we will ensure their schedules reflect the correct course title/weight earlier in the semester, so that we can report accurately to their colleges when they apply.
How will Honors credit be determined?
The criteria for earning honors credit will NOT be subjective. Teachers are collaborating this spring to carefully determine what the criteria will be for each subject area and this will be included on course syllabi in the fall. Overall grades will be part of that criteria, along with an agreed-upon proficiency level on one or more summative assessments. We do not expect teachers to use opinions nor personal judgment; rather, we will have clearly communicated and transparent expectations in the syllabi outlining the criteria for earning Honors credit.
Does this change make Denver South less competitive or rigorous than other schools?
No! There will be no changes to curriculum, assessments, assignments, or content. Our teachers will use the same lessons that they currently use for their Honors classes. We will maintain our high standards for all students and your student's Counselor will work with them to create a schedule that will challenge them and align to their post-secondary goals. This change is being made solely so we can increase access for students who have historically not had the opportunity to take Honors classes, and remain true to South's mission and vision.
If you still have questions, please complete this form and the appropriate South staff member will get back to you. You may also access this form and our frequently asked question on our website under "Questions?"
You can access current and past communications, as well as other important information on our website.
Go Ravens!
We are Denver South!
Sincerely,
Bobby Thomas
Principal, South High School
---
Upcoming Dates for 2021-2022 School Year:
February 14-18: Ravens Week
February 21-22: No School
New This Week
____________________________________________________________________________
Vision and Hearing Testing
There will be vision and hearing testing for all students starting 2/18. Families will have the choice to opt out. Please click here to access opt-out forms in multiple languages.
Update to COVID Family Notification Process
As we move into a new phase of the pandemic, DPS will no longer require schools to send general COVID-19 notification letters to families when there is a COVID-19 case reported in a school or workplace. Instead, we are encouraging families to check the COVID-19 Dashboard to see the latest updates regarding DPS cases.
Note: The dashboard will only show cases that are considered active. Active cases are those that are still within five days of symptom onset or the date of testing (whichever came first). After five days, cases will no longer appear on the dashboard.
Quarantine notification letters will still need to be shared with students and staff who will need to quarantine after an in-school exposure.
Linked here is a letter for families, which is available in English and Spanish now, with all consent decree languages coming soon.
As a reminder, please encourage your students to continue following the DPS 5 and the DPS COVID-19 Guidance for Parents and Caregivers.
Additionally, as you may know, the Denver mask mandate ended Thursday; however, please note there continues to be a standing Public Health Order in Denver that requires all individuals two or older to wear a mask in school settings. DPS will continue to abide by that order until further notice. At this time, masking in schools allows our students to be exempt from required quarantines when they are identified as a close contact, which in turn maximizes in-person learning days for all DPS students.
Recurring News
---
PTSA
SAVE THE DATE
Join SuperBowl Champion Denver Bronco Ryan Harris Talk to our Denver South Parent and Student Community about parent engagement and leadership on February 16 at 6p on Zoom. https://us02web.zoom.us/j/3038323200?pwd=Q2NlaUE5emZRUWo4anhacDQxcEFvZz09
Launching the Denver South Business Directory
New This Year: Help us put together a business directory of Denver South-owned/managed businesses.
After all – We Are Denver South!
Please complete the enclosed form.
Parent and Caregiver Education
February 23 Webinar with Dr. Sheryl Ziegler, Parenting Expert
Register for our February Webinar on February 23 at 6:30 on Parenting Teens by Dr. Sheryl Ziegler.
Dr. Ziegler has appeared as a mental health expert in 100+ news related shows including The Today Show with Megyn Kelly, The Katie Couric Show, The Jenny McCarthy Show, The Doctors, CNN, CNBC, Headline News Weekend Express with Lynn Smith, Morning Express with Robin Meade, and more. Articles she has contributed to have been featured in The New York Times, The Washington Post, Harvard Business Review, TIME, Better Homes and Gardens, Parents, Real Simple, Huffington Post and more. Her book has been translated into several different languages. She is an international speaker in countries including Kenya, Nigeria, Tanzania, Germany and Australia. For more about Dr. Ziegler, her podcast, book and more check out her website.
---
Black Hockey History Mobile Museum Tour Site Overview
Event: Black Hockey History Mobile Museum
Event Date: Wednesday, February 9, 2022
Event Timing: Museum Open to Public 12pm-6pm
Location: All-City Parking lot
Goal of Event: To highlight and share the Black Hockey History Mobile Museum's visit to Denver and celebrate Black History Month
Masks are required to tour the museum
8-10 patrons allowed inside the museum at all times

People spend anywhere from 5-15 minutes touring

ADA accessible with wheelchair lift
---
Giving Grocery
If you and your family need extra groceries for the week, The Giving Grocery provides free groceries to South Families. For More information click here!
THANK YOU FOR YOUR SUPPORT OF THE SOUTH HIGH SCHOOL GIVING GROCERY!