Weekly Communication 11.12
Posted November 16, 2021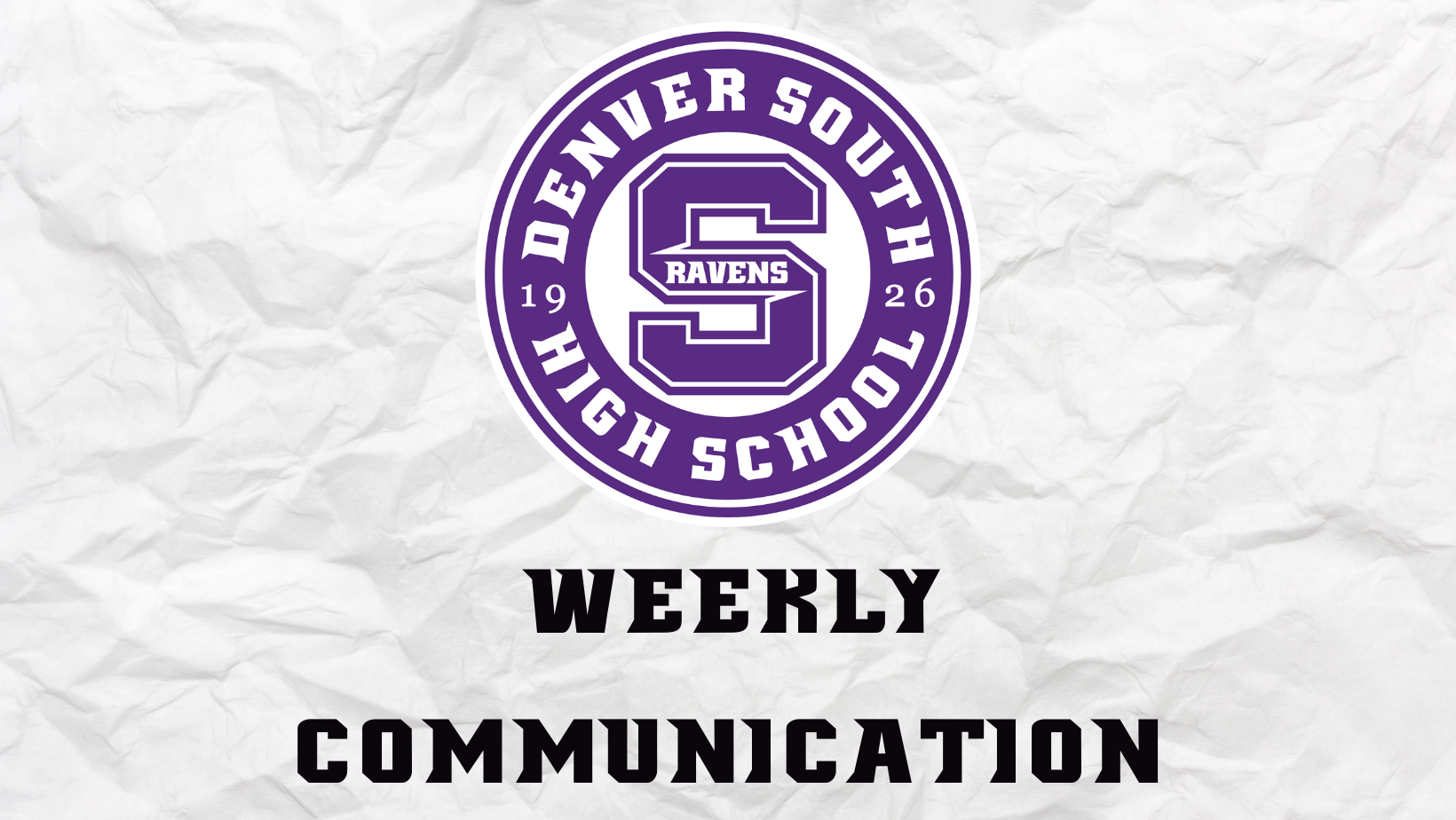 Update from Principal Thomas
Dear Denver South Students and Families,
Keeping each other safe has been a priority within our community during the pandemic. As some of you may be aware, there are DPS schools that have gone remote due to COVID numbers and not having the coverage to support students.  We ask everyone to do their part in keeping schools open so Denver South does not have to pivot to remote, and to be extra aware as we head towards the holiday season. We want to remind our students that masks need to be worn properly above the nose and cover the mouth at all times.  COVID rates in Colorado are skyrocketing and we have staff and students who are getting infected with COVID daily.  Wearing your mask correctly in the building is non-negotiable. Please do your part to keep each other safe and help Denver South remain open and in person. 
Additionally, we want to remind students that they cannot leave campus during Seminar. Seminar is scheduled for all students. Therefore, students are not allowed to leave during this time or they will receive an unexcused absence.
DPS leadership has decided to make Friday, Nov. 19 a non-attendance day for students, and district-run schools and office buildings will be closed.
You can access current and past communications, as well as other important information on our website.
Have an excellent weekend!
Go Ravens!
We are Denver South!
Sincerely,
Bobby Thomas
Principal, South High School
---
Upcoming Dates for 2021-2022 School Year:
November 15th Winter Sports Begin
November 16 8th Grade Showcase Night ( original date 11/11)
November 19th NO SCHOOL for students and staff
November 22nd – 26th Fall Break
New This Week!
---
COVID Vaccine Clinic
The FDA recently approved the 2-dose Pfizer vaccine for children age 5-11. Getting your child vaccinated will protect them from COVID-19 and also help slow the spread of this virus in our community. DPS is partnering with Denver Health to host FREE after-school vaccine clinics for any person age 5 and older, including Booster doses for parents and community members or first/ second doses for anyone needing Pfizer!
There are two ways to make an appointment:
Click the link and follow instructions for scheduling an appointment. https://www.denverhealth.org/patients-visitors/coronavirus/covid-19-vaccination.
If you do not have a MyChart account, you will need to create one. Please use your personal email to create your mychart account. Once in MyChart you will be able to schedule a vaccine appointment. (see attached flyer to learn more about scheduling an appointment).
Or call 303-602-8958. Please listen to all options. Phone wait times may be long, but we want to help get your vaccine appointment scheduled as soon as possible
Click on the flyer for more information.
---
Heaters
Students please be aware that our building is old and therefore radiators can be found throughout the building. Please do not sit or touch the radiators or you can get burned.
---
Student Highlight
The 2021 Dottie Lamm Leadership Award winner is Natalie Guerra of Denver South. Congratulations Natalie! We are proud of you! Click here to read the article.
---
Giving Grocery
The Denver South Giving Grocery will be open for parents to shop on November 18th from 3:15 to 5:30pm. We will have turkeys, chicken, Halal meats, vegetables, fruit, milk, eggs, and more. Other household supplies will be available as well.
Giving Grocery is looking for Denver south parent volunteers to help out. Please reach out to abrahm5@msn.com if you are interested in volunteering.
---
Athletics
Goodluck to our Varsity football team as they travel to Montrose for the second-round playoff matchup with number 1 ranked Montrose High School. If you do not want to make the four-hour drive down, here are two options for viewing the Friday night football game vs. South:
FacebookLive > search MHS Media > select MHS Media page montrose symbol
YouTube > search MHS Media > select the page with Montrose symbol 
Go Ravens!
Final Reminder: Winter sports registration is now open!
If you are interested in participating in a winter sport, registration is now open! First day of tryouts is November 15th!
Winter Sports Available:
Boys Basketball
Girls Basketball
Girls Swim and Dive
Boys Wrestling
Girls Wrestling
Registration Link: https://www.familyid.com/denver-south/denver-south-2021-winter-season
---
Activities
Rocket Launch!
The rocket club broke the current high school record of 18,000 ft by launching a rocket to 26,000 feet or about 8.1 Km into the air! The Rocket also broke a speed record with a top recorded speed of mach 2 or pver 1500 mph!
Here is a news clip about the launch with a video!
This achievement prompted NASA to reach out to South and the students' accomplishments are being presented to NASA's Ames Research Director Dr. Eugene L. Tu and other top leadership. Stay tuned for more to come.
Way to go Ravens!
---
Counseling
Mental Health Matters!
Did you know…
*THE CU Denver Student and Community Counseling Center is accepting clients from the Denver metro area community both in-person and ONLINE!
* The Counseling Center welcomes INDIVIDUALS, COUPLES, and FAMILIES.
* We offer affordable rates for all community clients. DPS Students and Families can access counseling services at an additional DISCOUNTED RATE! Just $10 per session.
Check out this flyer for more information
Student Mental Wellness Starts With Adults.
In the words of our dear friend and Program Advisory Board Member, Brittany Simone, we believe "well-being is our birthright." As an organization, we're committed to creating free spaces where educators can explore a variety of modalities to support their well-being. We've curated a variety of wellness leaders to help us explore well-being through different practices and modalities.
We have three remaining sessions of the year and they are must-try experiences. RSVP using the links below to receive a calendar invite and Zoom link:
---
Thanksgiving Food Drive
We are having a Thanksgiving Food Drive next week on Monday and Tuesday and the food and stuff for thanksgiving will be handed out between Thursday of next week and thanksgiving to our families in need.
PTSA
I AM DENVER SOUTH (IADS) CAMPAIGN! www.denversouthptsa.com
Thank you to everyone who attended the IADS event last night! If you were not able to attend, a reminder that we would love your support.
This year, we have two goals that we are seeking to achieve before winter break:
More than half of the community contributes. Every dollar matters!
$120,000 in donations
These funds will continue to support teachers through up to $30,000 in individual mini-grants to support the school and every student through direct support of more than $30,000 to the four A's (Academics, Arts, Athletics and Activities). In addition, we are embarking on building the new Ravens Landing community center this summer. See renderings and make your donation here: https://www.denversouthptsa.com/fundraising
We are also offering special recognition in Ravens Landing for small businesses or individuals that contribute:
$1,000 Silver (20 spots offered)
$2,500 Gold (10)
$5,000 Platinum (5)
$10,000+ Hall of Fame (3)
Questions? Danielle Vitale dvitale@adobe.com
---
Recurring Information
---
HBCU Virtual College Fair!
November 17th, 6:00 – 8:00 pm
Are you interested in attending a Historically Black College or University?
Junior and Senior students and families can register for the virtual college fair here by November 15th.
Seniors: did you know you can apply to HBCUs for FREE? See your Counselor for the code to apply using the Common Black College Application.
---
DENVER PUBLIC SCHOOLS DEPARTMENT OF SAFETY ARE HIRING SCHOOL CROSSING GUARDS.
We will need a new crossing guard starting December 1st. If you or anyone you know is interested in working with our South community, please apply. This position is essential to the safety of our students.
---
Giving Grocery
If you and your family need extra groceries for the week, The Giving Grocery provides free groceries to South Families. For More information click here!
THANK YOU FOR YOUR SUPPORT OF THE SOUTH HIGH SCHOOL GIVING GROCERY!