5.4 Update from Principal Goss
Posted May 19, 2023
Dear Denver South Students and Families,
We hope you had a great spirit week!
We have sent out a separate message to our senior families regarding upcoming events. You can click here to view the message.
Below is the schedule for May 12th.
9th, 10th, and 11th will attend school and have an early release.
Seniors DO NOT have school on May 12th.
Below is the schedule for May 12th for 9th – 11th Grade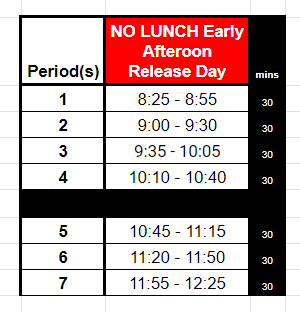 Graduation
9th, 10th and 11th grade will not have school on May 17th due to Graduation.
Graduation is Wednesday, May 17th at 2pm @DU
Here is the schedule for the week of graduation May 15th – 19th:
Monday: normal 1-7 day
Tuesday: odd block day (the usual Wednesday schedule)
Wednesday: no school for students (graduation is at 2 pm @DU)
Thursday: 9th, 10th and 11th resume school – the usual even block day (staff pd in morning)
Friday: normal 1-7 day
Finals Schedule for 9-11th grade.
See below!
Finals Period Format
Thur. May 25
Fri. May 26
Tues. May 30
1st
8:30 – 10:10
3rd
8:30 – 10:10
6th
8:30 – 10:10
2nd
10:20 – 12:00
4th
10:20 – 12:00
7th
10:20 – 12:00
Lunch
12:00 – 12:45
Lunch
12:00 – 12:45
Lunch
12:00 – 12:45
Office Hours & Make Ups
12:50 – 4:00
5th
12:50 – 2:30
Office Hours & Make Ups
12:50 – 4:00
Office Hours & Make Ups
2:35 – 4:00
Go Ravens
We are Denver South
Sincerely,
Principal Goss
---
Please check our website for the most current information.
Upcoming Dates
May 1st – May 12 – AP Exams
May 6th – Prom – Convention Center – Four Seasons Ballroom 8pm – 11pm (Juniors and Seniors ONLY – Click here to purchase a ticket before the price goes up at the door!
May 6th – After Prom @ Dave & Busters
May 11th – Senior Awards 6pm @ Auditorium
May 12th – Senior Checkout 12:45pm
May 12th – Senior Car Parade 6pm
May 17th – Graduation 2pm@ DU
May 25th and 26th – FINALS
May 29th – Memorial Day – NO SCHOOL
May 30th – Resume FINALS
May 31st – Make up Finals
---
Counseling
SENIORS –
Senior Check-out is Friday, May 12th! Here is the list of items seniors must complete in order to Check-out (https://bit.ly/3zAaltH ). Please do as much as you can BEFORE May 12th. Return all Technology and books as soon as possible. Look in cars, under beds, in closets – anything that belongs to DPS should be returned. You can return Tech as soon as you are done with your Finals – you do not have to wait until May 12th. Students will receive their Caps and Gowns at the completion of Check-out on May 12th.
RTD
Did you know that RTD is considering a Pilot Program offering free RTD passes to youth aged 19 and under? If you would like to advocate in favor of this program, reach out to the RTD board via email here: https://www.rtd-denver.com/board-of-directors
---
Athletics at South
Link to Purchase Individual Tickets
---
PTSA–
Teacher Appreciation Week, May 8th – May 12th
We have a full week of great things planned to say THANK YOU to the amazing Denver South teachers and staff. Volunteer HERE for any and all things you might be able to do!
Senior Car Parade, Friday, May 12th, 6pm
Come join the jubilant class of 2023! Seniors start the festivities by decorating their cars and bikes in the South parking lot at 4:30pm. The actual parade begins at 6pm. The route runs north up Franklin St. along the park then returns south on Williams St. back to the school. We need parent volunteers to help plan prior to May 12th, as well as volunteers for the parade itself. Volunteer HERE.
---
Giving Grocery The Denver South Giving Grocery is open to students after school every Thursday in Room 141. The Giving Grocery provides free groceries, including fresh produce, meat, milk, cereal, and personal care items to South students. No registration is required, and all students are welcome!