5.12 Update from Principal Goss
Posted May 19, 2023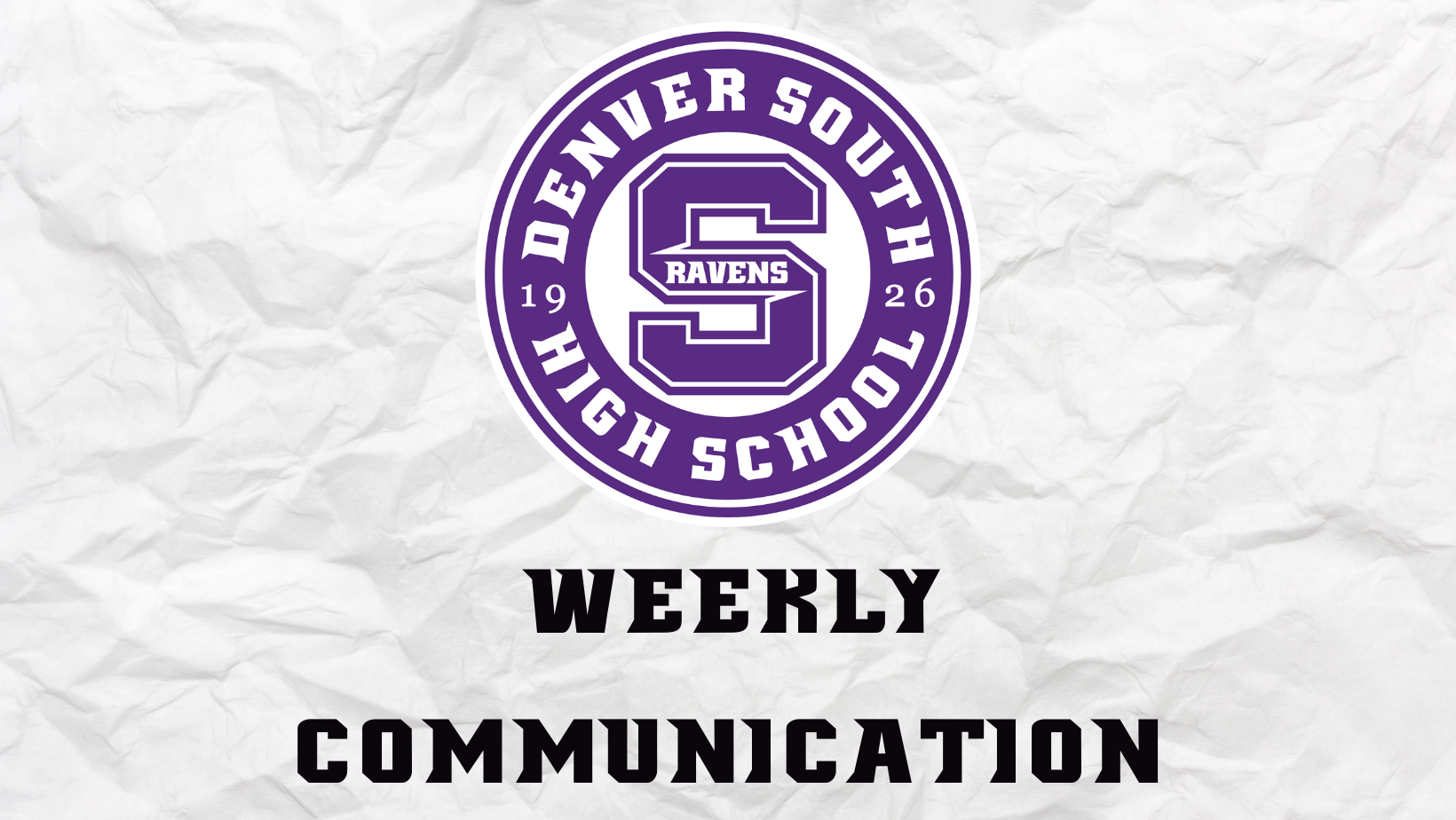 Dear Denver South Students and Families,
Congratulations class of 2023! You have made it to the finish line. Thank you for all your hard work and dedication throughout your time here at South. We can't wait to celebrate with you on Wednesday, May 17th at graduation!
Please be aware we have sent out a separate message to our senior families regarding senior events. You can click here to view the message.
Please take time to fill out this short survey about having a Denver Police Department School Resource Officer (SRO) in our building next year. Click this link to take the survey.
Graduation
9th, 10th and 11th grade will not have school on May 17th due to Graduation.
Graduation is Wednesday, May 17th at 2pm @DU
Here is the schedule for the week of graduation May 15th – 19th:
Monday: normal 1-7 day
Tuesday: odd block day (the usual Wednesday schedule)
Wednesday: no school for students (graduation is at 2 pm @DU)
Thursday: 9th, 10th and 11th resume school – the usual even block day (staff pd in morning)
Friday: normal 1-7 day
Finals Schedule for 9-11th grade.
See below!
Finals Period Format
Thur. May 25
Fri. May 26
Tues. May 30
1st
8:30 – 10:10
3rd
8:30 – 10:10
6th
8:30 – 10:10
2nd
10:20 – 12:00
4th
10:20 – 12:00
7th
10:20 – 12:00
Lunch
12:00 – 12:45
Lunch
12:00 – 12:45
Lunch
12:00 – 12:45
Office Hours & Make Ups
12:50 – 4:00
5th
12:50 – 2:30
Office Hours & Make Ups
12:50 – 4:00
Office Hours & Make Ups
2:35 – 4:00
Go Ravens
We are Denver South
Sincerely,
Principal Goss
---
Please check our website for the most current information.
Upcoming Dates
May 17th – Graduation 2pm@ DU (No School for 9th,10th,11th grade)
May 25th and 26th – FINALS
May 29th – Memorial Day – NO SCHOOL
May 30th – Resume FINALS
May 31st – Make up Finals
---
Technology
If you would like to have your student check out their Chromebook for the summer, please sign this form. (Paper copies here.) Paper copies can be turned in to the Library 300. Any devices that are not checked out will be checked in at the end of the year.
(Note: Devices need to be free of stickers when checking back in. Lost chargers will incur a $20 fee.)
Future Center
Hello Seniors, Parents and Families. Please see the following updates from the DSF Future Center:
Congratulations to the class of 2023!
Seniors should make sure to complete their college enrollment steps and start checking their college emails daily!
Seniors can drop by the Future Center or contact their college advisors for support with finalizing post-graduation plans and completing enrollment steps.
sdewald@denverscholarship.org ; plowell@denverscholarship.org ; aklein@denverscholarship.org
Senior who need support with post-secondary plans or enrollment steps can join their College Advisors for Auraria Campus Office Hours to receive college related support this summer:
Tues June 13: 12-4 @ MSU 
Wed June 21: 12-4 @ CUD
Thurs June 29: 12-4 @ CCD
Tues July 11: 9-1 @ MSU
Wed July 12: 9-1 @ CUD
Thurs July 13: 9-1 @ CCD
Additionally, seniors can email stephanie_dewald@dpsk12.net if they need college assistance. She will offer virtual and in-person hours at South during June and July.
---
Athletics at South
Link to Purchase Individual Tickets
Tryouts for Cheerleaders and Stuntmen open to all South Students and Incoming Freshman
---
PTSA–
After Prom: Thank you for encouraging your student to register and attend, it was a huge success!
Teacher Appreciation Week: Our thanks goes out to all the volunteers who helped celebrate and appreciate our South Teachers and Staff!
Senior Car Parade: Friday, May 12th, 6pm
Come join the class of 2023! Seniors start the festivities by decorating their cars and bikes in the South parking lot at 4:30pm. The parade begins at 6pm. Click HERE for the parade route. A few more volunteers are needed. Volunteer HERE.
Sign up HERE to receive PTSA weekly emails. You can also follow us on Facebook, Instagram or our Website. Questions? Email us at ptsadenversouth@gmail.com.
Merrill is hosting a community event this Saturday! The Jaguar Jamboree is open to everyone, they have the In and Out food truck, student vendor booths and volunteer opportunities. Click here for more information.
---
Giving Grocery The Denver South Giving Grocery is open to students after school every Thursday in Room 141. The Giving Grocery provides free groceries, including fresh produce, meat, milk, cereal, and personal care items to South students. No registration is required, and all students are welcome!