4.28 Update from Principal Goss
Posted May 19, 2023
Dear Denver South Students and Families,
We hope you had a great week! Please read the important information below.
Next week we kick off spirit week and wellness week! Below you can find the schedule of spirit days and events.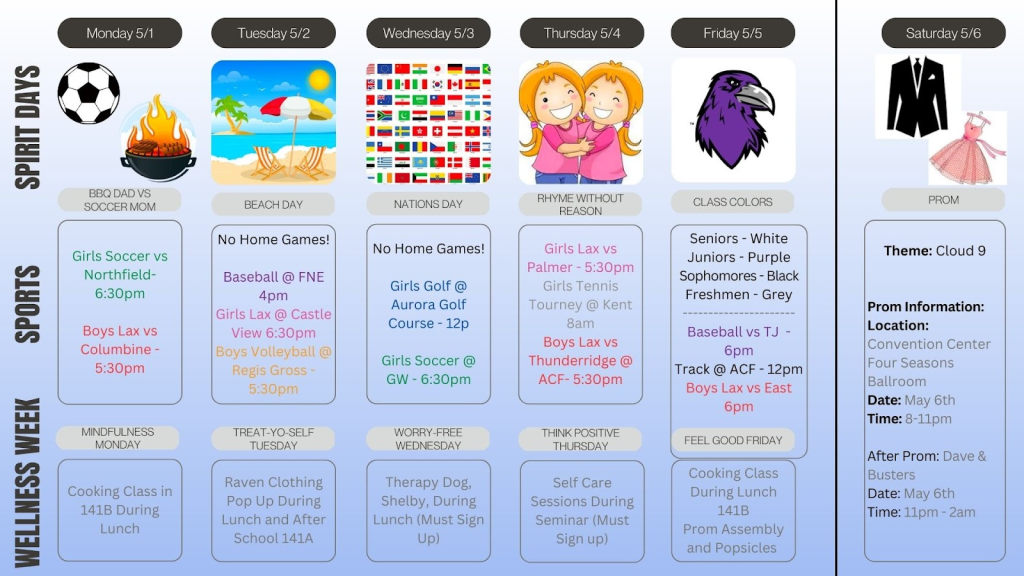 Senior Finals
Senior Finals will be on May 10th and 11th.
On May 12th, 9th, 10th, and 11th will attend school and have an early release. See schedule below. Seniors DO NOT have school on May 12th. They are required to attend senior checkout that begins at 12:45pm – Here you will receive cap and gowns, turn in tech, and pay fees. Please be proactive and pay any fees that you may have on your student accounts! You can reach out to our bookkeeper Irasema_Najera@dpsk12.net with any questions.
Below is the schedule for May 12th for 9th – 11th Grade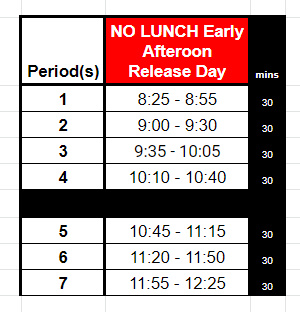 Graduation
Graduation is Wednesday, May 17th at 2pm @DU
Graduation Rehearsals are at 11am May 17th @DU (Hamilton Gym). Seniors need to arrive by 10:45am
Here is the schedule for the week of graduation May 15th – 19th:
Monday: normal 1-7 day
Tuesday: odd block day (the usual Wednesday schedule)
Wednesday: no school for students (graduation is at 2 pm @DU)
Thursday: the usual even block day (staff pd in morning)
Friday: normal 1-7 day
Finals Schedule for 9-11th grade.
See below!
Finals Period Format
Thur. May 25
Fri. May 26
Tues. May 30
1st
8:30 – 10:10
3rd
8:30 – 10:10
6th
8:30 – 10:10
2nd
10:20 – 12:00
4th
10:20 – 12:00
7th
10:20 – 12:00
Lunch
12:00 – 12:45
Lunch
12:00 – 12:45
Lunch
12:00 – 12:45
Office Hours & Make Ups
12:50 – 4:00
5th
12:50 – 2:30
Office Hours & Make Ups
12:50 – 4:00
Office Hours & Make Ups
2:35 – 4:00
The DPS Your Voice/Tu Voz survey opens on Monday, May 1. This is your opportunity to share your experiences in DPS. We know that, while district data is important and helpful, it's the voices and feedback of your school and community that will help inform reflective decision making at your building.
Go Ravens
We are Denver South
Sincerely,
Principal Goss
---
Please check our website for the most current information.
Upcoming Dates
April 30th – Car Show 10am – 3pm West Parking Lot
May 1st – May 12 – AP Exams
May 1st – 5th – Spirit week and Wellness week
May 6th – Prom – Convention Center – Four Seasons Ballroom 8pm – 11pm (Juniors and Seniors ONLY – Click here to purchase a ticket before the price goes up on 5/1!
May 6th – After Prom @ Dave & Busters ( Juniors and Seniors Only Click HERE to register by May 2nd)
---
Counseling
Future Center – SENIORS!
Hello Seniors, Parents and Families. Please see the following updates from the DSF Future Center:
DSF Scholarship due May 1st:
The DSF Scholarship is a need-based scholarship for qualifying DPS graduates. The renewable scholarship can be used at DSF's 31 College Partners in Colorado, including technical, community, and four-year universities. Along with their scholarship award, DSF Scholarship recipients get personalized advising and support. Checkout the eligibility requirements and then complete the scholarship application now!
Upcoming Rep Visits:
The following college representative visits will focus on supporting seniors with their college enrollment steps and transition into college.
CU Denver Rep Friday May 5th at 1:30 pm
MSU Denver Thursday May 4th at 12:30pm
Arapahoe Community College Wednesday May 3rd at 10:00am
*Students should RSVP on the Future Center Class of 2023 Schoology Course and join us in the Future Center (room 114)
College Enrollment Steps:
Activate you online student portal
Activate your student email
Complete the financial aid process, including verification Apply for financial aid using this presentation
Apply for institutional scholarships. Students should report the scholarships they have applied to/ received throughout the school year on their MaiaLearning Account
Deposits and health insurance
Register for and attend orientation
Meet with an academic advisor and register for classes
Submit immunization records
Indicate which college you want your final high school transcript sent to during the senior checkout process
Order college transcripts from concurrent enrollment
Seniors can drop by the Future Center or contact their college advisors for support with any of the above steps sdewald@denverscholarship.org ; plowell@denverscholarship.org ; aklein@denverscholarship.org
Mental Health Team
Save the date: We are hosting our 5th annual Wellness Week on May 1st-5th. Students will have a variety of activities to participate in throughout the week.
We are hosting an in person Parent/Guardian Night on Wednesday, May 3rd from 5-7 PM. Sessions will focus on how to talk to your teen about substance use, mindful trauma informed parenting, signs of suicide, and bite size tools for student well-being. More information will be shared next week. Email Jacie_Friel@dpsk12.net if you have any questions.
RTD
Did you know that RTD is considering a Pilot Program offering free RTD passes to youth aged 19 and under? If you would like to advocate in favor of this program, reach out to the RTD board via email here: https://www.rtd-denver.com/board-of-directors
---
Athletics at South
Link to Purchase Individual Tickets
---
PTSA–
Register For After Prom!
Is your student looking for something to do after prom? Are they not going to prom, but want to hang out with their friends on Saturday night? Have them come to Dave and Busters from 11pm-2am on Saturday, May 6th! Free food, beverages and unlimited games for the first 300 students that register! Click HERE to register by May 2nd. Guests are welcome, but will also need to be registered and approved by the school.
Teacher Appreciation Week, May 8th – May 12th
We have a full week of great things planned to say THANK YOU to the amazing Denver South teachers and staff. Volunteer HERE for any and all things you might be able to do!
Senior Car Parade, Friday, May 12th, 6pm
Come join the jubilant class of 2023! Seniors start the festivities by decorating their cars and bikes in the South parking lot at 4:30pm. The actual parade begins at 6pm. The route runs north up Franklin St. along the park then returns south on Williams St. back to the school. We need parent volunteers to help plan prior to May 12th, as well as volunteers for the parade itself. Volunteer HERE.
PTSA Meeting, Thursday, May 4th at 6:30pm
Sign up HERE to receive PTSA weekly emails. You can also follow us on Facebook, Instagram or our Website. Questions? Email us at ptsadenversouth@gmail.com.
---
Giving Grocery The Denver South Giving Grocery is open to students after school every Thursday in Room 141. The Giving Grocery provides free groceries, including fresh produce, meat, milk, cereal, and personal care items to South students. No registration is required, and all students are welcome!