12.16
Posted January 6, 2023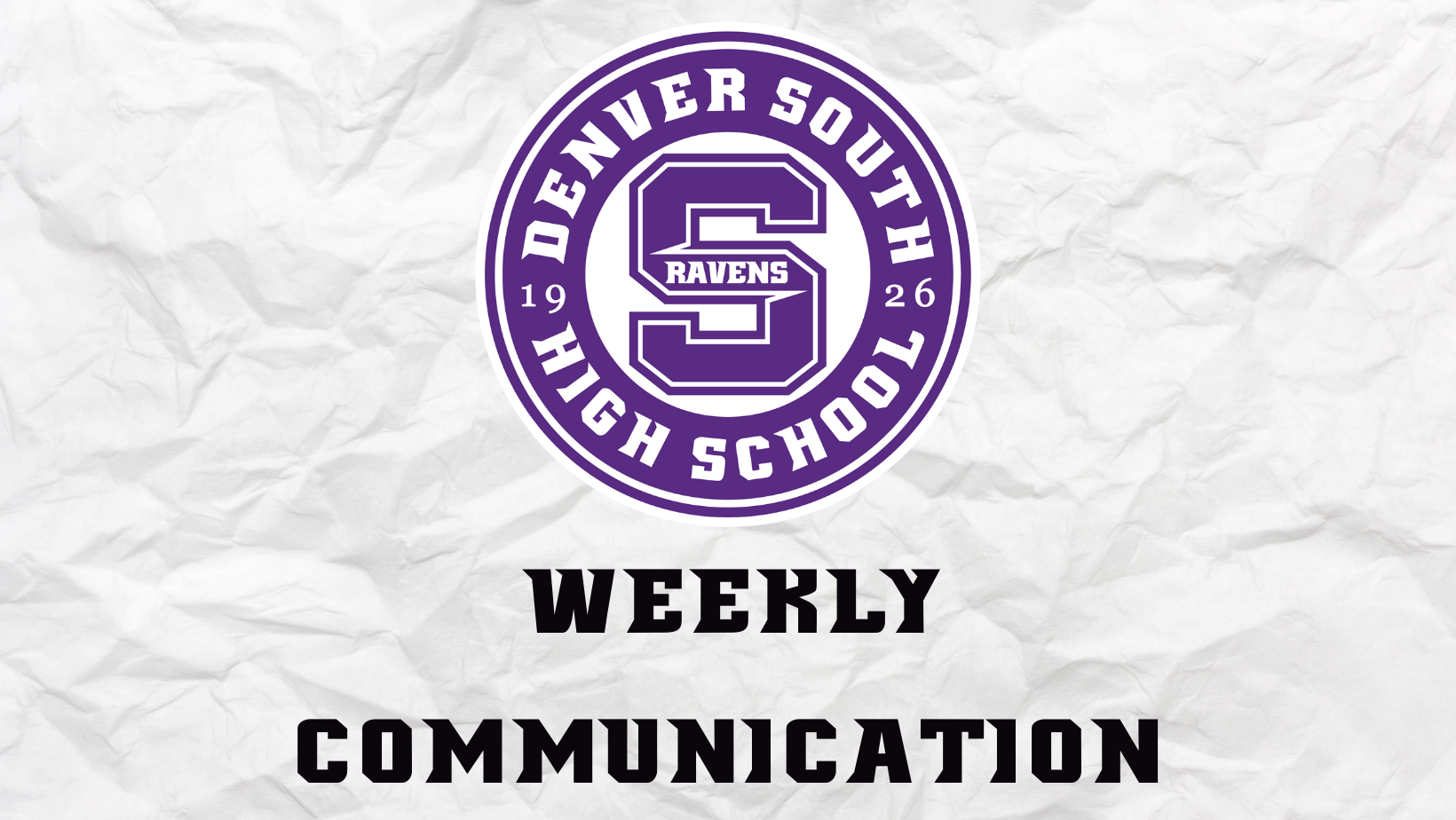 Update from Principal Goss
Dear Denver South Students and Families,
We made it to the end of first semester! Thank you for all the hard work and dedication to our students this semester. We hope you have a wonderful winter break and spend some time with your families and loved ones. Take time to unwind, unplug, and be ready to finish out the school year when we return.
When students return from break, Wednesday January 4th will be a block day.
Happy Holidays!
Go Ravens
We are Denver South
Sincerely,
Principal Goss
---
Please check our website for the most current information.
Upcoming Dates
December 19th – January 3rd: Winter Break
January 4th – Return to school
January 16th – NO SCHOOL (MLK DAY)
January 16th – 20th – Winter Spirit Week
---
From the Future Center and Counseling
Students should preview their 2nd semester schedule in Student Portal. There may be some changes due to class size and staffing changes, especially in Spanish, Social Studies and Science – keep checking all week as changes are still being made. If students need to request a schedule correction, DO NOT COME SEE YOUR COUNSELOR. They must fill out the Schedule Correction Form that was posted in the Schoology Class of group (also linked below) before the end of the day on December 16th. NO STUDENT INITIATED CHANGES WILL BE MADE IN JANUARY.
Schedule Correction Request Form – https://bit.ly/S2change
---
Activities at South
Congrats to our JROTC Rifle team last weekend they competed in the Rocky Mountain Regional air rifle JR Nationals qualifier which will be held in Sandy, Utah in April 2023. Team A which consists of the following Members: Graham Judge, Meadow Contreras, John Dang and Wylder Treat.
Team B which consist of the following cadets: Piper Ramirez, Eli Kim, Austen Ford and Kevin Maldonado.
Team A finished 1st in the Colorado State Cup winning only by 2 Bullseyes over Northridge Marine JROTC.
Team B finished 5th at the Colorado state out of 81 teams
Team A and Team B also competed in the CMP Regional cup
A team finished 3rd out of 43 teams
B team finished 9th out of 43 teams
Both teams also competed in the Rocky Mount 60 shot standing where Team A finished 3rd overall and Graham Judge finished 3rd as an individual
B team finished 5th overall in that competition
Finally we have qualified in the 8th position for the CMP JROTC NATIONALS to be held the 1-5 Feb 2023 in Sandy Utah the following cadets will go compete Graham Judge, Meadow Contreras, John Dang and Wylder Treat. This competition will determine who will go to the all service championship to be held at Aniston Alabama.
---
Athletics at South
Link to Purchase Individual Tickets
Cheer Fundraiser
The South Cheer Team is working with Birdcall for a dine-out! Make sure to grab a bite to eat on Tuesday, December 20th, and use code cheer1220 to give 35% of the proceeds right back to the cheer team. Please help us get to Nationals!
---
Library
Hey Ravens! The library is missing lots of classroom and library books. Over Winter Break please look for late library and classroom books. Bring them back January 4th no questions asked!
---
Yearbook
South Senior Parents! If you want to create a baby ad for your student in the yearbook, click on this link: https://www.jostens.com/apps/jcom/router.mvc?affiliateId=1008720
The deadline is January 31st. Prices are outlined on the website.
---
RTD BUS PASSES
Please download the RTD MyRide app and create an account using your DPS student email address before Winter Break.
After December, we will no longer be using paper passes. Beginning January 1, 2023, eligible students will be expected to use mobile passes through the RTD app.
Please see the attached flier for step by step instructions.