10.28
Update from Principal Goss
Posted November 2, 2022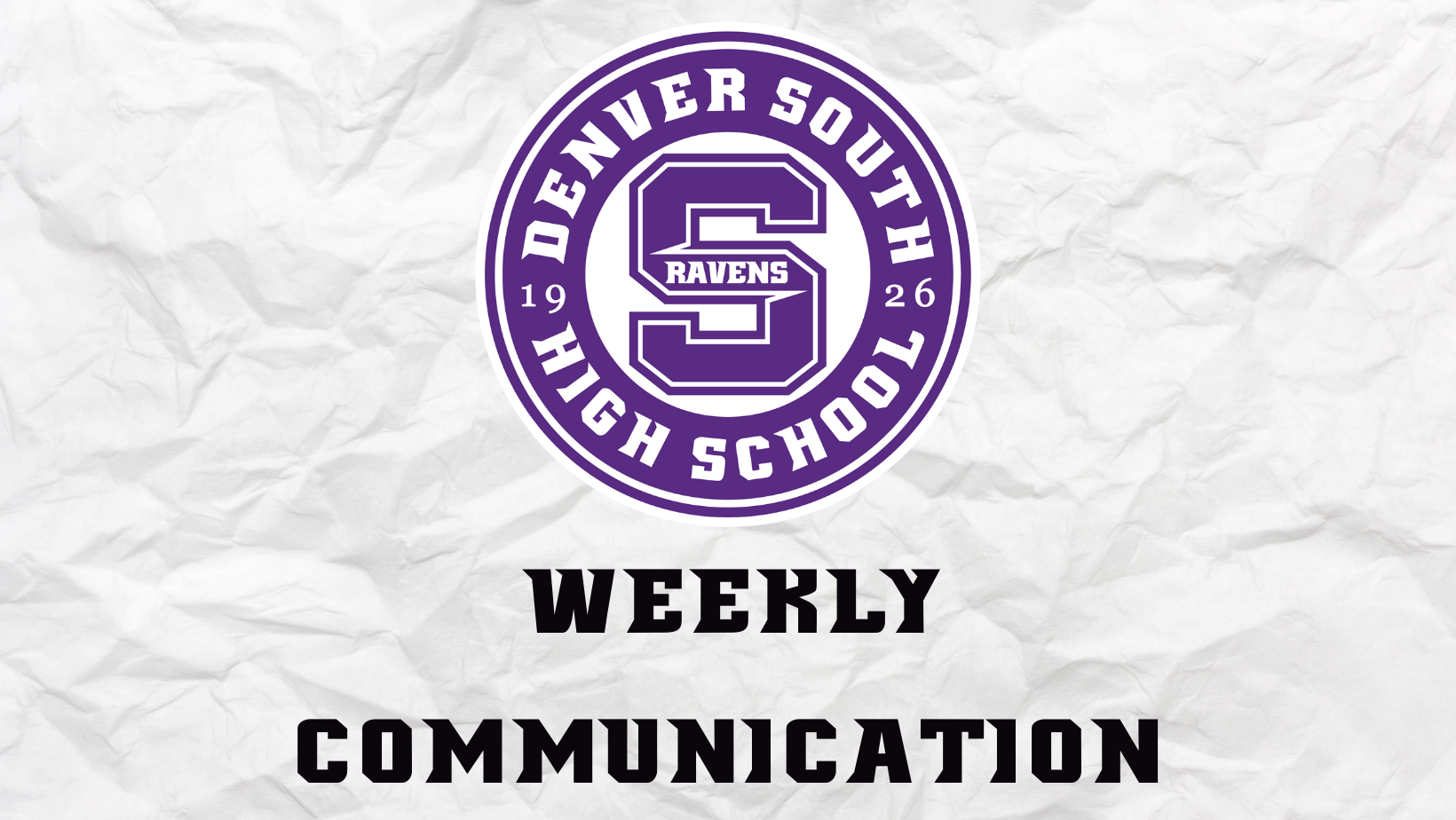 Dear Denver South Students and Families,
Thank you for attending trick-or-treat street this week. We had a great turnout this year! We look forward to continuing the tradition next year.
Please come out and support our theater kids and production of The King in Yellow. The play will start next week. You can find details below to purchase tickets.
Everyone is invited on November 10 at Space Annex from 6PM-9PM for our I AM DENVER SOUTH Community Fundraiser. This event is an opportunity to visit with our teachers, bid on teacher experiences, connect with other South families and bid on community experiences. The event will include a paddle raise, dinner, wine pull and student entertainment. Tickets are only $5, but are limited and going fast, so please download the Handbid App and Buy Tickets Here.
Our fundraising efforts this year will go toward teacher mini grants and help support Academics, Arts, Athletics and Activities as well as expanding Raven's Landing into a Hall of Fame, a hallway which will be an extension of Raven's Landing.
If you can't make it to the event, but want to donate, please contribute Here
Have a great weekend.
Go Ravens
We are Denver South
Sincerely,
Principal Goss
---
Please check our website for the most current information.
Upcoming Dates
Nov 3 – 5th – School Play The Yellow King 7pm @ South
Nov 6th – School Play The Yellow King 2pm @ South
Nov 9th – 8th Grade Showcase Night – Doors open at 5:30pm – 8pm
Nov 10th – I AM Denver South Campaign @Space Annex 6pm
---
Activities
SOUTH HIGH STUDENT THEATER PROUDLY PRESENTS
THE KING IN YELLOW
BY THOM RYNG
NOVEMBER 3, 4, 5 @ 7:00 p.m.
NOVEMBER 6 @ 2:00 p.m.
all tickets $10
available online through MySchoolBucks or in cash at the door
https://www.myschoolbucks.com/ver2/prdembd?ref=ZZI5ZQ2XQU04MZG_ZZYWKXX1UBNOE27
Key Club
Key Club will be extending their UNICEF Fundraiser into November for the season of giving. Students will collect envelopes from Seminars on November 3, 10, and 17th. The winner will be announced on December 1st.
---
SENIORS!!
I hope this message finds you and your student well. We have a few important Future Center Updates to support seniors with next steps for college:
Congratulations to our Seniors who participated in Colorado Free Application Days! To ensure all college application steps have been properly completed students should double check they have done the following:
Link the Common Application Account to MaiaLearning
Request teacher letters of recommendation on Maialearning
Request counselor letter of recommendation via email
Waive the FERPA on your college application
Request transcripts on MaiaLearning
Apply for financial aid at our 11/3 FAFS/CASFA workshop
On 11/3 Students and families can join us in the South lunchroom from 2-6pm to complete the FAFSA/CASFA application. Please use this sign-up form to sign up for an appointment at our financial aid workshop
Prior to competing the financial aid application students should collect the following:

Create an FSA ID for student and one parent whose financial information is reported on FAFSA
parent(s) and student (if applicable) 2021 Federal Tax Return (1040 or 1040 A or 1040EZ) (if applicable), 2021 bank statements and 2021 W-2s
parent(s) and student SSN (FAFSA Applicants only)
personal information: mailing address, student date of birth, parent(s) date of birth, marriage/divorce dates
parent and student income information from 2021
2021 untaxed income information (ex: social security benefits, veteran benefits, disability benefits)
Parent(s) and student checking and savings account balances as of today
Follow along with this financial aid presentation for more information and links to get started with your FSA ID and FAFSA/CASFA:
For all college related support, please schedule a meeting with your Future Center Advisor
• Stephanie Dewald Appointment: https://calendly.com/stephanie_dewald/30min
*Appointments fill up fast, if students need support, they are welcome to drop by the Future Center without an appointment
---
From the Counseling Department
The Colorado Council In State College Fair is coming up on Monday, November 7th. It will take place in the parking lot behind the gym next to the tennis courts (if the weather is bad, it will take place in the South Gym). Seniors are invited to attend from 1:00 PM – 1:30 PM and Juniors are invited to attend from 1:30 PM to 2:00 PM. Please see the link below to register and the list of colleges that are attending. Please see Ms. Brazinsky if you have questions.
Colleges Attending the College Fair
---
Athletics at South
Link to Purchase Individual Tickets
---
PTSA
**7-night stay at DILLON MOUNTAIN HOME
**LAWN BOWLING PARTY at Wash Park
**4 tickets to Colorado Ballet's home-grown production of THE NUTCRACKER
Tickets for the fundraiser are going fast! Have you purchased yours yet?
It is recommended you download the Handbid app for the best user experience the night of the fundraiser.
Can't make it to the fundraiser on the 10th, but want to contribute, please Donate Here
Interested in volunteering for the fundraiser? Volunteer Sign Up
Interested in donating a bottle of wine for the wine pull or a $25 gift card? Drop off your donation at 766 S. High Street by November 9th.
8th Grade Showcase
South is hosting an 8th Grade Showcase on Wednesday, November 9th. Included in the showcase is a panel of administrators, teachers and parents available to answer questions from prospective families.
If you are interested in sitting on the panel as a South parent, email us at ptsadenversouth@gmail.com.
PTSA Meeting
We hope you'll join us at our next PTSA meeting on Thursday, November 3rd at 6:30pm.
Get informed and involved! Click HERE to sign up for PTSA emails. You can also follow us on Facebook, Instagram or our Website. Questions? Email us at ptsadenversouth@gmail.com
---
Giving Grocery
The Denver South Giving Grocery is now open Thursdays from 3:30 pm to 4:30 pm in Room 141. The Giving Grocery provides free groceries, including fresh produce, meat, milk, cereal, and personal care items to South students. No registration is required, and all students are welcome!
---
10.21
Update from Principal Goss
Dear Denver South Students and Families,
We hope you had a great week! This week it was awesome to see the future center packed with our seniors taking advantage of the free Colorado application college day.
Trick-or-Treat street is a community event that we have hosted in the past prior to covid. We are excited to bring it back! Trick or Treat Street will be on Tuesday October 25 from 5-7pm in the main gym! Our community is welcome to bring their kids and join us for some candy and games! More information can be found below.
Have a great weekend.
Go Ravens
We are Denver South
Sincerely,
Principal Goss