Update from Principal Goss 10.7
Posted October 11, 2022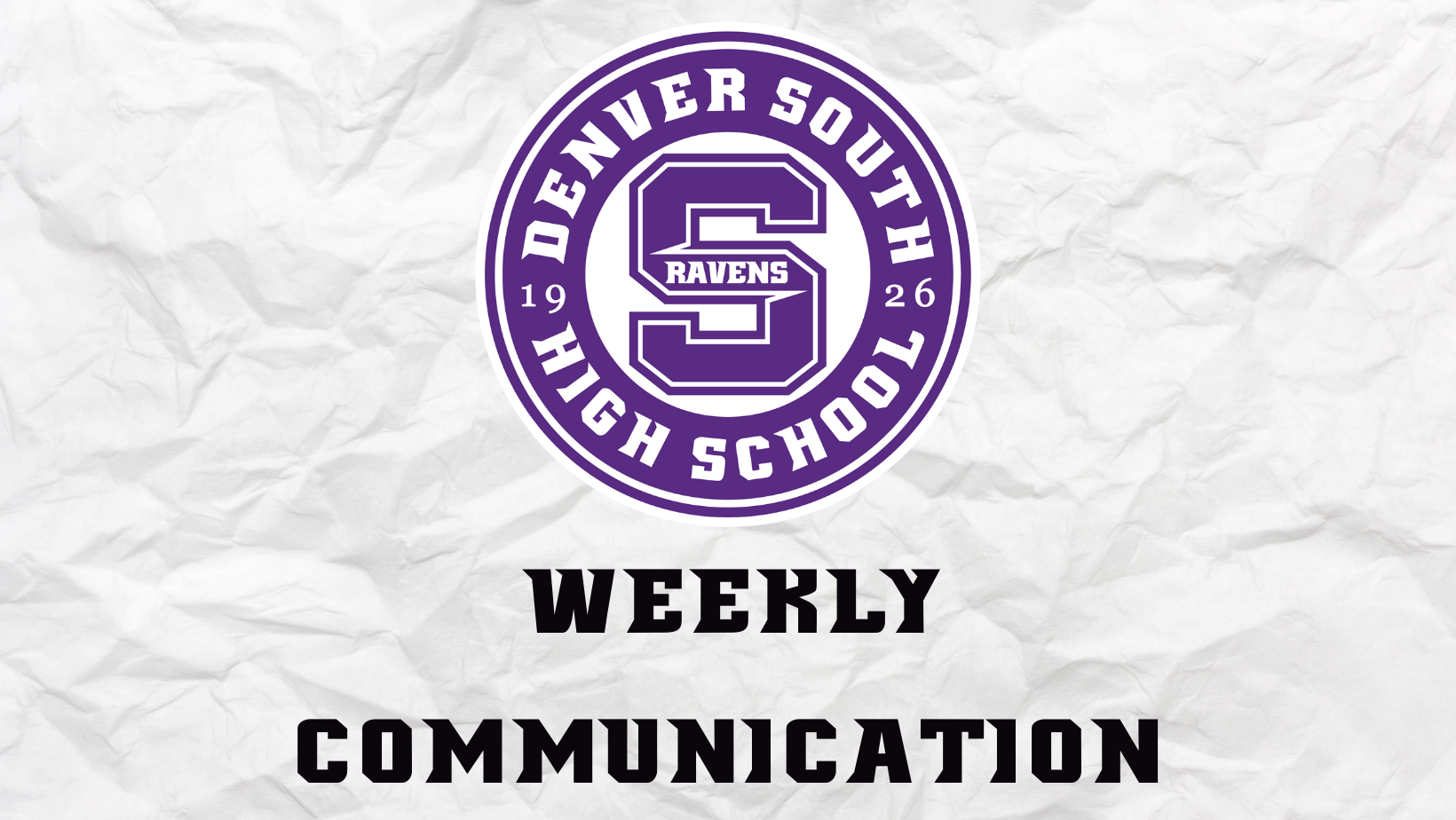 Dear Denver South Students and Families,
We had a great homecoming week! We enjoyed seeing all the students participate in our spirit days and events! Thank you to our Senate students and PTSA for being such a great help to make homecoming the best week! Follow us on IG to see some of the great photos from homecoming week.
Unfortunately Thursday afternoon we learned that our varsity football homecoming game on Friday has been canceled. Gateway high school will be forfeiting due to unforeseen circumstances. All other homecoming activities on Saturday will proceed as scheduled. Our homecoming football game will now take place next Thursday 10/13 at 7pm at All City Stadium vs Vista Peak.
Homecoming tickets can be purchased online. All tickets are sold online. They are $20 currently and will increase to $25 tomorrow. Be sure to purchase the tickets today! Here is the link to purchase tickets.
Party buses are highly discouraged for homecoming this Saturday. Any party bus on DPS property will be searched by South Administration. Students will need to bring their school ID with them to enter.
Parent teacher conferences will be held Oct 12 and 13 from 4-8pm. We are dedicating conferences to students with grades D or below. Sign up links are available here.
When signing up, please be sure to indicate in the description; The students name and if you would like to attend the conference in person or virtual.
If your students' grades do not fall in this category, we encourage you to reach out to their counselor or individual teachers.
PSAT testing will also take place on October 12 and 13th. Testing will begin at 8:30am. Please have students arrive by 8:15am. Testing will be completed between 12pm-1pm depending on accommodations. Make sure to bring a pencil, calculator, water, and a snack.
Oct 12th PSAT for 10/11 grade — (no school for 9th or 12th grade students)
Oct 13th PSAT 9th grade — (no school for 10, 11, &, 12th grade students)
There will be no school for ALL students on October 14th and 17th.
Go Ravens
We are Denver South
Sincerely,
Principal Goss
---
Please check our website for the most current information.
Upcoming Dates
Oct 12th – PSAT 10/11 grade
Oct 13th – PSAT 9 grade
Oct 12th – 13th Parent Teacher Conferences
Oct 14th – No School for Staff and Students
Oct 17th – No school for students
Ost 25th – Trick or Treat Street (more info to come)
---
Seniors
Families of Seniors: Financial Aid Season is here!! To learn how you can get help paying for college, check out this video from our partners at the Denver Scholarship Foundation:
Save the Date: South will host a Financial Aid workshop on November 3rd from 2:00-6:00 and families can make an appointment to get individualized help completing the financial aid forms. More details to come!
For now, you can start to gather the information you will need to apply for financial aid (listed below) and create your FSA ID, the username/password you will need to complete the FAFSA. https://studentaid.gov/fsa-id/create-account/launch
Here's what you will need for student and parent/guardian (If applicable):
-Full legal name, date of birth, and Social Security numbers
-Permanent Resident Number, checking and savings account balances, and amount of wages earned in 2021
-2021 Federal Tax Return (1040 and any Schedules) if filed
-2021 W-2 and other income statements
-2021 untaxed income records (such as social security, TANF, Veterans and disability benefits)
-Values of business or investment farms
-Net values of investment properties (not including your primary home)
---
PTSA
Homecoming
Volunteers to do snack and coat check are still needed for the dance on Saturday, October 8th. No chaperoning required.
I AM DENVER SOUTH Community Fundraiser
Reminder: Tickets are now on sale for the Denver South Community Fundraiser on November 10 at Space Annex from 6pm-9pm.
Get your $5 tickets via the Handbid App or buy Here
PTSA is seeking Community Experiences (Buy- A- Shares). These parties are hosted by and for our community. (Ex. theme dinners, cruiser bike parties, yoga/wine gathering). This is a great way to build our South Community AND make money for the school. To host a Community Experience sign up Here
If you're interested in becoming a member of the PTSA, now is the time! Your membership supports our mission…"to make every child's potential a reality by engaging and empowering families and communities to advocate for all children". Membership is only $15. Click HERE to join or renew. Our next PTSA meeting is Thursday, November 3rd at 6:30pm in Room 114A, Career Center.
Get informed and involved! Click HERE to sign up for PTSA emails. You can also follow us on Facebook, Instagram or our Website. Questions? Email us at ptsadenversouth@gmail.com
---
Activities
On Monday October 10th, We are celebrating Indigenous Peoples day in place of Columbus day. We are encouraging everyone to wear red in solidarity of acknowledging the stewards of the land on Turtle Island.
South HS Indigenous Peoples Day
---
Spain Trip
Here is the registration information for the SPAIN Trip next summer. Please share this with your students. (In class and schoology)
October 18: Final deadline to register.
Go to www.livenlearn.com
Click where it says "Find Your Groups Trip Here"
Enter the trip ID 80223
Click on Register Now
Create an account
Fill out all required forms. Once you have submitted a form you cannot edit it. Contact us at info@livenlearn.com for any changes. You do not have to finish all forms at the same time and can log in at a later date to finish them, but you cannot leave a form half way finished if you want it to save.
Make the $250 deposit on PaySimple by clicking on the "Make Payments" button in My Account or through the storefront link here.
---
Athletics at South
Link to Purchase Individual Tickets
---
Yearbook
Senior parents! Want to purchase a baby ad for your graduating senior? Click on this link!
Senior photos/ quotes: Check out our website for more information!
Families wanting to purchase a yearbook can do that here. Prices will go up October 10th.
---

Your Voice/Tu Voz
You should have received an email with the DPS "Your Voice/Tu Voz" family survey link. If you haven't already, we ask that you please take a few minutes of your time today to complete the survey. The last day to complete the survey is Oct. 9. This survey asks you to reflect on your experience at DPS, and let us know what went well and what we can improve in the future.
The survey is optional and confidential. If you have any questions or need help while filling out this survey, please call the FACE Help Line at 720-423-3054. Results from the most recent survey can be found at dpsk12.org/survey.
Thank you! We appreciate your feedback.
---
Giving Grocery
Due to next week's testing schedule, the Giving Grocery will be open on Tuesday instead of Thursday. All students are welcome Tuesday the 11th, 3:30-4:30 pm in Room 141. We will go back to Thursdays the following week.
Come get your pumpkins and support the Giving Grocery at the Bonnie Brae Cory Merrill Garden Club pumpkin patch at 2511 E. Kentucky Avenue this Saturday, October 8, 10:30 am – 1:30 pm. All proceeds go to the Denver South Giving Grocery!