9.23
Posted September 27, 2022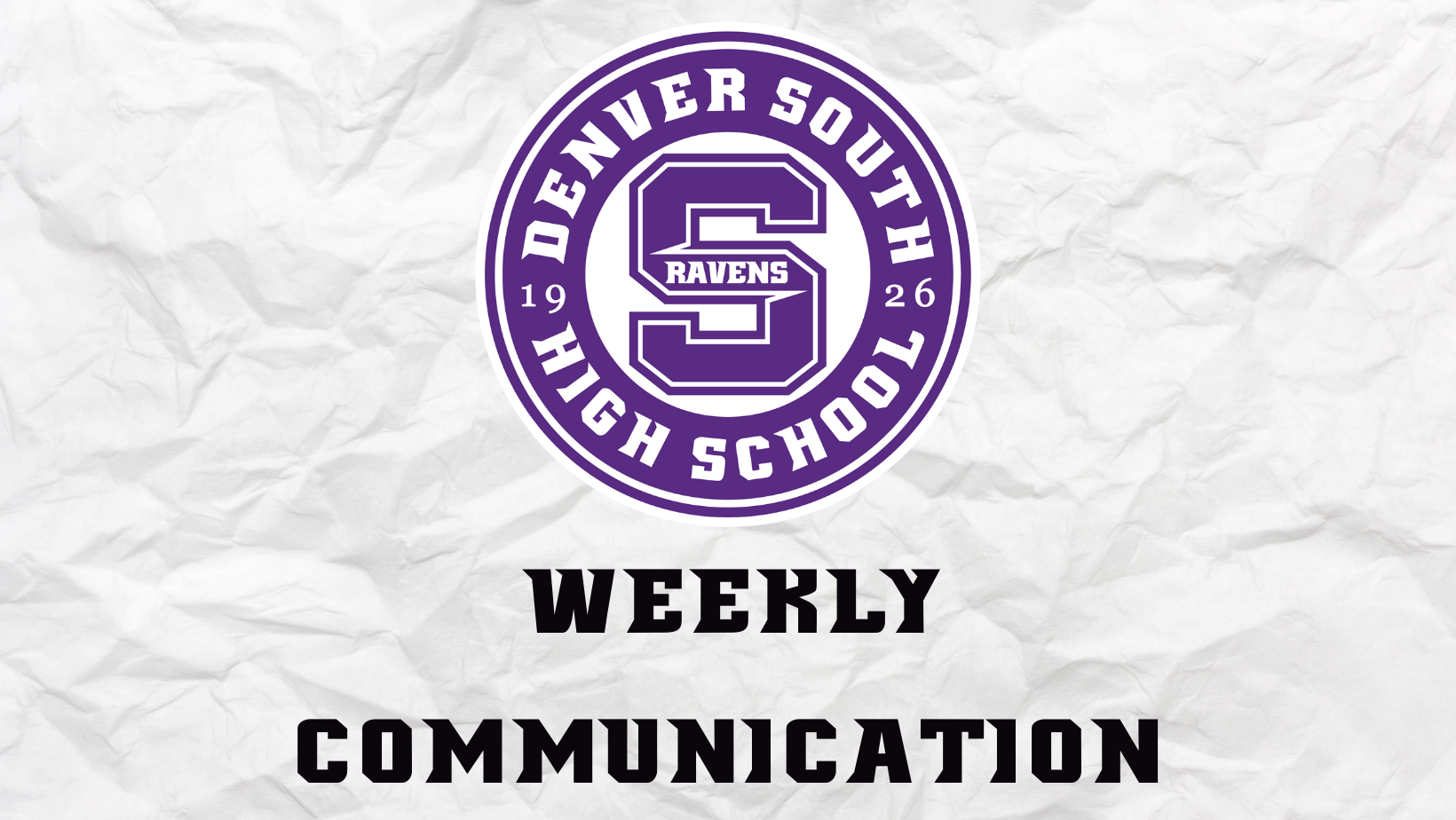 Update from Principal Goss
Dear Denver South Students and Families,
We hope you had a great week. There will be no school on September 30th due to teacher/staff in school planning day.
Parent teacher conferences will be held Oct 12 and 13 from 4-8pm. We are dedicating conferences to students with grades D or below. Sign up information will be available next week.
If your students' grades do not fall in this category, we encourage you to reach out to their counselor or individual teachers.
PSAT testing will also take place on October 12 and 13th. Testing will be completed between 12pm-2pm depending on accommodations.
Oct 12th PSAT for 10/11 grade — (no school for 9th or 12th grade students)
Oct 13th PSAT 9th grade — (no school for 10-12th grade students)
There will be no school for ALL students on October 14th and 17th.
Have a great weekend!
Go Ravens
We are Denver South
Sincerely,
Principal Goss
---
Please check our website for the most current information.
Upcoming Dates
September 29th – Greater College Fair 5:00-7:00 pm Main Gym
September 30th – Non student contact day
October 3-8 – Homecoming week
October 4th – Gifted and Talented Info Meeting
Oct 12th – PSAT 10/11 grade
Oct 13th – PSAT 9 grade
Sep 29th Orange Shirt Day: Honoring Indian Residential School Children. 
Below is a slide deck with a visual reminder for orange shirt day, an article link that leads to a video talking about the investigations Colorado will be doing with their Indian Residential Schools. https://docs.google.com/presentation/d/1nK_-VqleZqOSn9R9dFWgqrtBnSeGpAx_B7jYAfJ8l6o/edit?usp=sharing
---
Greater College Fair

South High School will be hosting the College Fairs of Greater Denver on Thursday,
September 29th from 5:30PM – 7:00PM in the Main Gym.
Register for the in-person college fairs at https://www.strivefair.com/
Please contact Stephanie Brazinsky or Elena Elder if you have questions about these events.
---
Athletics at South
Link to Purchase Individual Tickets
---
PTSA

Out-of-State College Fair on Thursday, September 29th, 5:30-7:00 PM:
We are looking for 10 individuals to volunteer as 'hosts' for the fair's attendees to answer basic questions and provide simple guidance. 2 shifts; 5-6pm and 6-7pm. PLEASE SIGN UP TO VOLUNTEER HERE: https://www.signupgenius.com/go/60b0544aeaa2cabf94-hosts
Homecoming Is Just Around The Corner
Join us as we volunteer and cheer on our Denver South Ravens! See the schedule below and click on the event to volunteer for a shift.
September 26th – October 3rd:Donate Candy for Homecoming Parade
Tuesday, October 4th: Homecoming Parade MAP
Drive Homecoming Court in the Parade with Your Convertible or Jeep
Tuesday, October 4th:
Thursday, October 6th:
Friday, October 7th:
Varsity Football Game at 4pm
Saturday, October 8th:
Next PTSA Meeting: Wednesday, 9/28, 6:30pm in room 114A
Have questions about South's School Performance Framework data? Hear Principal Goss explain South's report.
If you're interested in becoming a member of the PTSA, now is the time! Your membership supports our mission…"to make every child's potential a reality by engaging and empowering families and communities to advocate for all children". Membership is only $15. Click HERE to join or renew. Our next PTSA meeting is Wednesday, September 28th at 6:30pm in Room 114A, Career Center.
Get informed and involved! Click HERE to sign up for PTSA emails. You can also follow us on Facebook, Instagram or our Website. Questions? Email us at ptsadenversouth@gmail.com