Weekly Communication 5.6
Posted May 9, 2022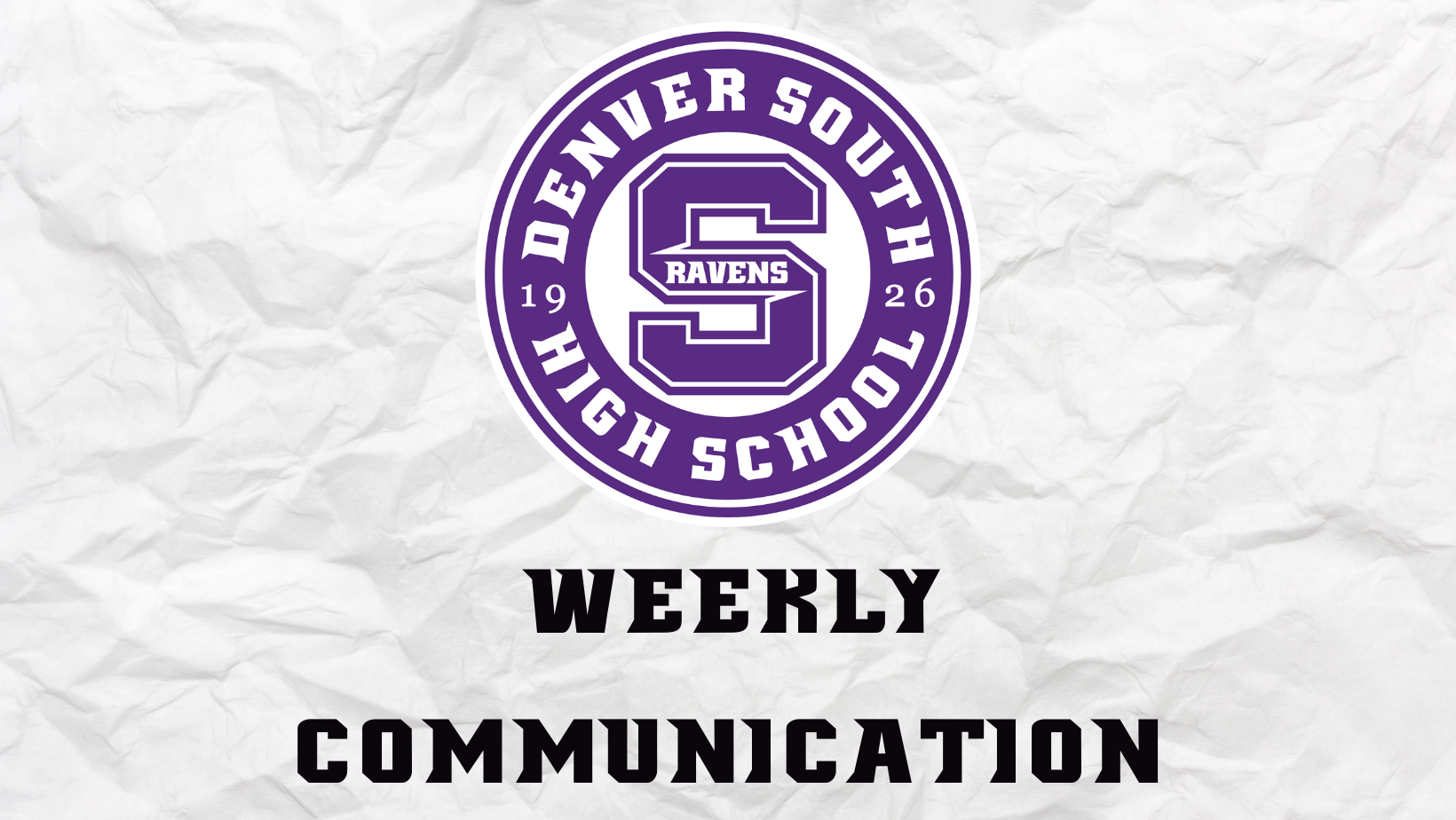 Update from Principal Thomas
Dear Denver South Students and Families,
Almost there! There are 5 days of classes left for the Class of 2022, and we've wrapped our final spirit week and pep rally of the year. We are so grateful to celebrate our South Ravens in-person and see all the smiles and school spirit. We also celebrated our South staff during Teacher Appreciation Week. Thank you to our amazing PTSA for all of their hard work!
Our 4th Annual Social/Emotional Wellness Week will be Monday, May 9th – Friday, May 13th, 2022. There will be a mix of in person sessions and activities for students during the day and virtual sessions for parents/guardians/students in the evening. Mark your calendars for our virtual evening sessions below. All sessions will be held virtually via Google Meet or Zoom from 6:00-6:45 PM. Click for more information.
In sports news, Ravens Lacrosse is on fire this Spring. Our Girls are undefeated in league play and look to secure back-to-back league titles tonight as they host Liberty HS. Our Boys have had a historic season, boasting a 14-1 record overall, a first ever league title and the #1 seed in the 4A State Playoffs! They will host a 2nd round playoff game on Friday night, May 13th at All City Stadium.
As a reminder, Early Bird Enrollment Verification for the 2022-23 school year begins May 2. Please register your student in your Parent Portal account between May 2nd and May 20th. You can find more information linked here. This will save you time when we come back in the fall.
Also, a reminder of these important dates:
May 17: Asynchronous learning day for all 9-11th grade students. Graduation at DU
May 24-26: Final Exams
May 27-June 3 Make up finals by appointment
Have a great weekend,
Go Ravens
We are Denver South
Sincerely,
Principal Thomas
---
Upcoming Dates for 2021-2022 School Year:
May 2-12: Art Show
May 7: Senior Dance Showcase.
May 9-May 13: AP Exams
May 10: Culture Fest
May 11: Senior Finals, normal bell schedule
May 11: Mx. Raven 5:30-7:30pm
May 12: Art Show Reception 5:30-7:30pm
May 12: Senior Finals, normal bell schedule
May 12: Senior Awards Night 6:00pm
May 13: Senior Checkout at 12:45
May 13: Senior BBQ at 1:30
May 13: Mandatory Graduation Practice at 3:30
May 13: Senior Car Parade at 6:00 pm (set up will start at 4:30)
May 14: Prom at the Denver Athletic Club from 8:00-11:00 pm (Guests are permitted)
May 14: After Prom at South High School from 11:30pm-2:30 am
May 17: Asynchronous learning day for all 9-11th grade students
May 17: Graduation Rehearsal at 11:45 am at DU
May 17: Graduation Ceremony at 2:00 pm at DU
May 24-26: Final Exams
May 26: Last day for students unless they have exam make ups.
---
Final Exam Schedule Grades 9-11
Tues, 05/24 – Per. 1, 2
Wed, 05/25 – Per. 3, 4, 5 (with lunch in between)
Thurs, 05/26 – Per. 6, 7
---
New This Week
DPS Your Voice/Tu Voz Family Survey
Have you taken our DPS Your Voice/Tu Voz Family Survey yet? Don't delay – share your feedback on Denver South by May 13! Your answers will help us better serve our DPS community. Thank you for participating! https://bit.ly/3OUiPT4
---
AP Testing
Our AP testing continues next week, 8AM arrival. Please make sure to bring two number 2 pencils, a black or dark blue pen, water, and a snack. If you are taking AP Science or Math test, please bring your own calculator. We will have some scientific calculators for students to use but we will not have graphing calculators to provide to students. If you are taking AP Spanish or French, you will need to bring your school-issued Chromebook; a personal laptop can not be used for these tests.
Please reach out to Rachel Goss at rachel_goss@dpsk12.net with questions.
---
SAT/PSAT Scores
Students will be able to access scores in their online College Board accounts.
Student score release for SAT:
Scores for students who tested on the primary test date will begin to release on May 4.
Scores for students who tested on the makeup date will begin to release on May 18.
Student score release for PSAT:
Scores for students who tested on the primary test date and the makeup test date will begin to release on May 20.
---
Prep for Final Exams!
---
Athletics Updates
Denver South Youth Football Camp Info
Denver South Boys Soccer Camp Info
Spring Sports
Boys and Girls Track and Field – Both these boys and girls teams have boasted multiple top 5 finishes at meets this year and look to take home the DPS Championship hardware, and state championship placers in the next couple weeks.
Girls Golf – This group has had a great season and really knows how to have fun. Good luck to them next week at the league championships and state regionals.
Girls Tennis – this squad serves up W's and finished a close second in league this season. We had 5 lines in the finals at Regionals this week! Good Luck at State next week tennis!
Baseball – After a tough start to the season this squad went on a 6 game winning streak and is looking to close out the season on a high note. They have Ft Collins and West up next on the schedule. Good luck baseball!
Girls Soccer – Girls Soccer is led by 10 Seniors who hope to extend their playing careers into the postseason next week! Be sure to come out and cheer them on as they take on Lincoln tonight to finish out the regular season!
Girls Lacrosse – The girls lacrosse team has persevered through injuries and a very tough schedule. They are currently undefeated in our league and play for a second consecutive league championship tonight at 6pm. Be sure to stop by the turf field to cheer them on!
Boys Lacrosse – The boys lacrosse team just finished their regular season with a 14-1 record capturing our first ever Boys Lacrosse league championship. They are currently ranked number 1 in the state in 4A boys lacrosse and will be the number 1 seed going into the playoffs next week. Come out and support them next Friday night at All City Stadium.
Boys Volleyball- Our first boys volleyball team. They have had an undefeated season and are paving the way for a dynamic future program! South will host a boys volleyball tournament here at South tomorrow at 12pm. Good luck boys volleyball!
---
DPS Partnership with Auraria Campus colleges
We are so excited to finally be able to share information with you regarding this new event in partnership with the colleges on the Auraria Campus.
On Saturday, May 21st DPS will be hosting a college experience for high school students and their families.
The event will be from 10:00-1:00 and families can attend a College 101/Financial Aid session, a student panel and a resource fair, while also taking a tour of the campus.
Parking and food will be provided! Space is limited and we will need families to register so that we can share with them the details of the day.
See these flyers for more info!
---
Volunteer Opportunities
Thank you to everyone who volunteered or contributed toward Teacher Appreciation Week! Please help South finish the year strong by volunteering at one the following events:
Not a PTSA member but want to receive email updates with important information for families? Subscribe HERE.
---
Senior Class Car Parade
Friday, May 13, 5:30pm
Starting in school parking lot
Decorate your cars and join us for the annual Senior class car parade! We will gather in the school parking lot and parade around Washington Park. Please be sure to be in the parking lot by 5:30 PM, with your car already decorated, and you will line up to head out into the neighborhood!
---
Recurring News
Summer Opportunities (click to sign up!)
Regional Summer School (RSS)
Who: Students who need to recover credits after failing a class or who have an "Incomplete" on their transcript older than two semesters.
When: June 21-July 21 (no classes July 4 & 5), Mon. – Thurs. from 8 am-12 pm
Where: Select DPS schools (see your counselor for more information on locations – **South will not be a RSS site this summer)
Special notes: Counselors will take requests for RSS from students and families up through May 27th.
Live Instruction Summer School
Who: Students who need to recover credit and prefer in-person, live instruction (non-Edgenuity based)
When: June 7-July 15, Mon.-Fri. from 8am-12pm
Where: Emily Griffith High School
Special notes:
Fill out application form with your primary school Counselor
Bring application form down to EGHS registration office Room 327 (Mon-Friday 8am-12pm)
Complete summer school registration and sign up for summer school orientation
Concurrent Enrollment Summer Courses (click for more information)
Who: Students who would like to earn college credit over the summer!
When: June 21-July 21, Mon – Fri, 8am-12pm
Where: CCD courses taught at Bruce Randolph and Lincoln HS, CCA courses are taught at Florida Pitt Waller
Special notes: Students must be able to attend all sessions as they are condensed and accelerated. Registration ends 5/20. Please see counselor to sign up.
---
Principal Selection Timeline
Through April 29, 2022
Community Feedback via School Principal Input Survey closes April 29 @ 10 a.m.
Week of April 25, 2022
Regional Instructional Superintendents meet with CSC re: search process and community feedback on school principal profile and determination of questions
Week of May 16, 2022
Candidate Virtual Presentations & Community Feedback Surveys opens May 18, 2022
Candidate Virtual Presentations & Community Feedback Surveys closes May 24, 2022

Given our commitment to providing equitable access through interpretation and translation, candidates will provide a pre-recorded candidate presentation to share their vision and address questions generated through the previous engagement structures. All Denver South community members, including staff, parents, and students, will have the opportunity to provide input on strengths and challenges through a survey and a Family and Community Engagement (FACE) hotline.
Week of May 25, 2022
Interview with Superintendent Dr. Alex Marrero, Deputy Superintendent of Schools Michael Ramirez, and Associate Chief of Schools Cesar Cedillo
As soon as possible after May 25, 2022
---
South Ceramics
Ceramics and sculpture students will also be partnering with the Second Star to the Right bookstore for a First Friday show on Friday, May 6th. The show will be up from Friday- to Sunday. Click here for the flyer.
---